Who will be the biggest challenger to Galileo's Crown over the next 3 years
Paul Rhodes for AOBFS July 27th 2019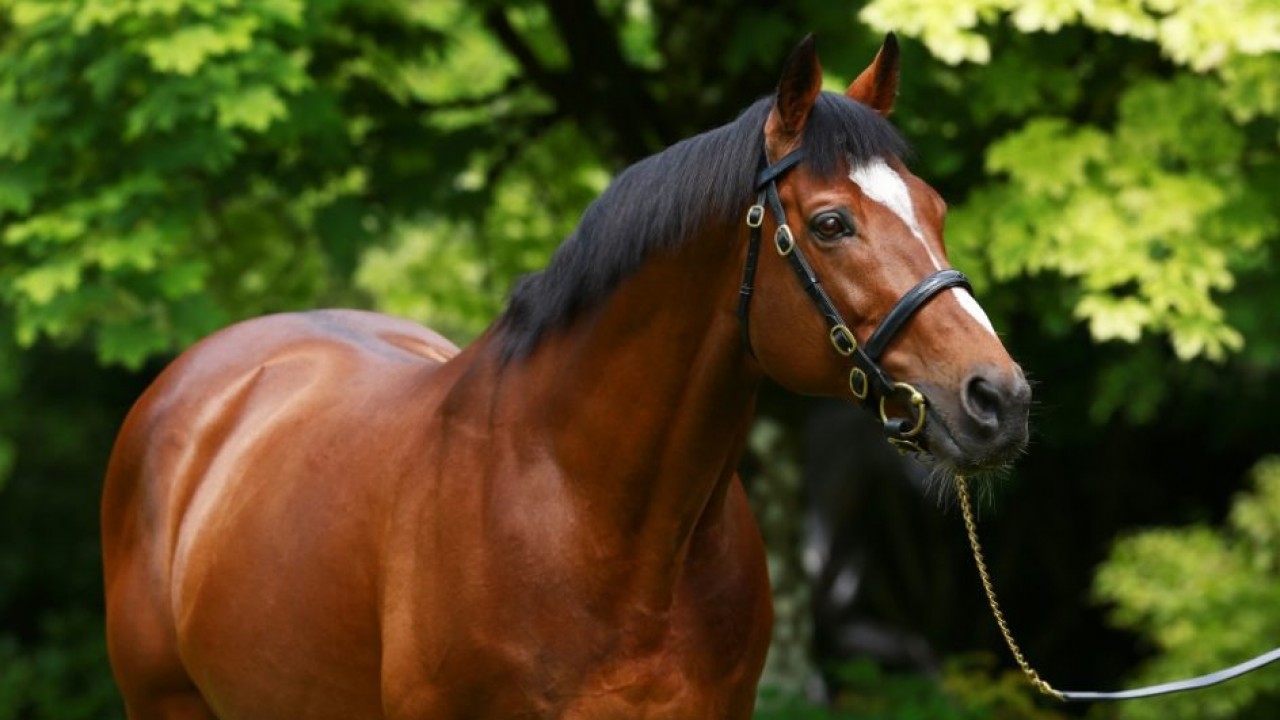 Galileo managed to secure his tenth Champion Sire of Great Britain and Ireland title in 2018. And even though it was his quietest season in recent memory he still dominated the sires title winning by over 4 million pounds.

Indeed as we move towards the month of August we can see that Galileo has already produced 7 individual Group 1 winning horses in 2019, whom as we speak have so far won 8 Group 1 races which includes 3 classic winners in the shape of Hermosa, Anthony Van Dyck and Sovereign, he has also sired 16 individual Group race winners, his most recent two which came at Leopardstown this past Thursday night in the shape of quality juveniles Love and Armory and with plenty more Colts and Fillies waiting in the wings to make their race course debuts the future looks bright.


As you can see below Galileo dominates the sires title and already looks to have secured his eleventh title.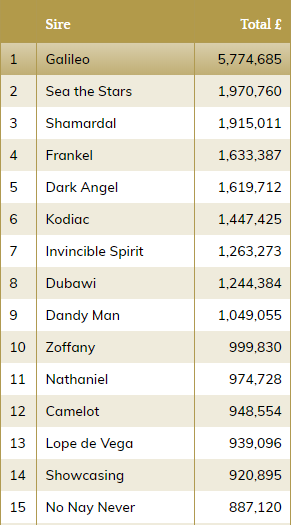 It is pretty much guaranteed that we will have another 4 crops from the brilliant Galileo, we can only hope there will be more than that to come god willing.
Galileo just needs 4 more sire titles to equal his sire Sadler's Wells in his record of 14 sires championships. Galileo has it all where it counts classy 2 year olds. Classic winning 3 year olds, middle distance horses and stayers he is the complete all round package.
Currently Galileo is and has been in a league of his own for a number of years and has not really faced a serious challenger since Dubawi put in a major challenge 4 years ago in 2015 even then it wasn't enough to stop Galileo winning the sires title. It's perfectly understandable for people to think that there could be genuine challenger surfacing on the horizon.

Let's take a closer look at some of his rivals :-
Frankel
A son of Galileo and the greatest race horse I have ever seen who was rated at 140. He has made a fine start at stud maybe his achievements and progress at stud looking at it from some peoples perspectives hasn't reached the heights that they may have expected given the quality books of mares that he had when he first went to stud.
I however would have to disagree with those sentiments he has already produced a top class horse in Cracksman a multiple Group 1 winner and has produced his first European Classic winner this year in the shape of the filly Anapurna. So far he has produced 8 individual Group 1 winners and is already climbing the sires table and I believe he will become a major threat to Galileo's quest in making history, he could well be the biggest danger to his sire in years to come.
Sea The Stars
A wonderful racehorse, one of the all time greats and a top class sire but in his 7 seasons at stud is yet to throw down a serious challenge to his half brother Galileo. However you write him off at your peril, this may change in the coming years.
Dubawi
Put up a monumental effort in the 2015 champion sires title, some saw it as a sign of the changing of the guards but has since struggled to keep up with Galileo and the pace the champion sets. Last year could have been his best chance of winning the title with Galileo having somewhat of an off season by the high standards we expect from him. But he failed to emerge with a serious challenge. No denying that he is a world class sire and will continue to produce many Group 1 performers and winners but there is serious talent queuing up behind Dubawi in the bid to become the best of the rest and potential future challengers to Galileo's crown.

Camelot
The best son of Montjeu Got off to a flyer at stud producing a classic winner Latrobe in his first crop which also included Group 1 winners Athena and Wonderment. In terms of Group 1 success he has not built on that in 2019 but Pink Dogwood and Sir Dragonet came close in the classics, this has shown that he is still producing the goods and it's very early days for him. There is better to come from him and I see him firmly establishing himself as a top class sire in the coming years but it's too early to tell whether he can lay down a genuine challenge to Galileo yet.

Gleneagles

Anyone who follows me on facebook or twitter will tell you since Gleneagles retirement that I have been singing his praises from the rooftops and that Gleneagles will be a top class sire and a potential future champion sire. He has an impeccable pedigree with illustrious names such as Storm Cat, Urban Sea, Mariah's Storm, Galileo, Sadler's Wells, Northern Dancer, and Secretariat in his lineage.
In 2019 we have the first crop of Gleneagles on the track, so far he has already produced a Royal Ascot winner in the shape of Southern Hills and has sired his first Group race winner in Royal Lytham. It's very early days but I really do think that he is the most exciting young sire on the planet. He is already sitting in 2nd place in the first season sires table.
However having said that it will be very tough for him to be taking on the likes of Galileo by only his 3rd or 4th crop but if we were to look 10 years in the future it would be no surprise to me to see him as a multiple champion sire by then and becoming what I have christened him "The Real Heir Apparent".
Australia
Another son of Galileo who has made a solid start at stud. The 2014 Epsom Derby winner's second crop are starting to hit the track now, its ridiculously early is his career to make any solid judgments so far he is yet to produce a Group 1 winner or classic winner but Broome could put that right in the St Leger at Doncaster in September. He already has Group 2 and Group 3 winners from his first crop. Australia will be well supported at stud in the coming years and he is one to keep an eye on I expect him to firmly establish himself as a leading sire and a potential heir to the throne. .
Dark Angel
A wonderful sire who I really really like and rate incredibly highly unfortunately for Dark Angel I just can't see him producing the type of horses you need to win a sires title nevertheless he will continue to shine and produce many more stars I can't speak more glowingly about him. Sire of multiple Group 1 winners Harry Angel and Mecca's Angel both top class sprinters.

Zoffany
He was the champion first season sire way back in 2015 when he burst onto the breeding scene with 3 first crop Royal Ascot winners. Since then things have gone a little quieter for him. Of late has started a resurgence and better is to come from him, he was heavily supported with classy mares after his first crop successes and fully expect him to be moving up the sires table over the next few years. However I would find it hard to imagine that he could throw down a serious enough challenge to Galileo.
Nathaniel
The son of Galileo has already made a solid start to his stud career and has already proven he can produce a superstar in Enable she is by far his shining light a multiple Group 1 winning mare with multiple classics and Arcs to her name. In 4 years at stud he has so far only produced 8 Group race winners, I was sure after what Enable has achieved on the track that he would have been given more support and better mares. He could be a dark horse and is a sire I will be keeping an eye on.

Kingman
An incredibly classy miler who looked as though he also could have made a champion sprinter. Kingman has already made a very very promising and exciting start as a sire and I rate him very highly, already the sire of Group 1 winner Persian King. He has the scope to produce sprinters up to 10 furlong horses the jury is still out as to whether or not he can produce Oaks or Derby type of horses. I think he has the potential to be a threat to Galileo over the next 3 years and I respect him greatly.

No Nay Never
The son of Scat Daddy has gotten off to a flyer at stud, he was champion first season sire in 2018 and that shows no signs of that being a one off in 2019 where he is currently lying 2nd in the second season sires behind Kingman. He has already produced his first multiple Group 1 winner in Ten Sovereigns. Champion sires need to produce classic winners and horses that perform well over the middle distances where the big money is earned, I can see him producing plenty of classy sprinters and milers but may struggle to produce anything that will perform at 10 furlongs or beyond however I think he will be an influential sire.

It will be very interesting to see how the next few years turn out but I would say that Galileo would be odds on to remain as champion sire for the next 3 years at least. He will have to fight off some serious challengers to do so and his son Frankel is most likely the one who will be the biggest threat, only time will tell.
Thanks for reading & Thanks to Red for proofreading & editing.