MONTJEU

Montjeu By Andrew O'Brien (Full List Of Progeny at bottom of page)

Montjeu was foaled on 4th April 1996. A bay horse standing 16.1 hands (65 Inches) Was bred in Ireland by Sir James Goldsmith, who named him after his chateau outside Auten in France. Montjeu was sired by the fourteen times Britain and Ireland champion sire Sadler's Wells, out of the group 3 Prix De Lutece winner Floripedes. The colt was sent into training with John Hammond at Chantilly.
Sir James Goldsmith died in 1997 before the colt began racing, and his ownership went to Tsega Ltd, owned by Laure Boulay de la Meurthe, mother of two of Goldsmith's children.
Montjeu made his racecourse debut on 18th September 1998 in the Prix de la Maniguette over one mile at Chantilly and beat nine rivals by one and a half lengths. A month later, he was moved up to listed class, in the the Prix Isonomy at Longchamp over one mile and one furlong where he faced two rivals and won by just under a length.
At the end of 1998, a half-share in Montjeu was sold to John Magnier and Michael Tabor.
Montjeu started off his three-year old campaign on 25th April, at Longchamp in the Group Two Prix Greffulhe over one mile, two and a half furlongs. He faced six rivals and won by one length from Sendawar, who went on that year to win (French 2000 Guineas and St James Palace Stakes). On 6th June, Montjeu faced six rivals in the group 1 French Derby. Cash Asmussen took the lead two furlongs from home and drew away from his opponents to win by four lengths. Three weeks later, Montjeu was sent to the Curragh for the Irish Derby where his main rivals appeared to be the English trained colts Daliapour and Beat All who had finished second and third respectively in the Epsom Derby. Montjeu was held up early before moving smoothly through to dispute the lead in the straight. He took the lead a furlong from the finish and pulled clear to win by five lengths.
Montjeu was then given a planned break of more than two months before returning in the Prix Niel at Longchamp. Ridden for the first time by Mick Kinane, he was last of the four runners entering the straight but moved forward to take the lead in the closing stages. In the Prix De L'Arc De Triomphe three weeks later, Montjeu started 6/4 favourite and faced thirteen rivals on unusually heavy ground. He turned into the straight in fifth place before being switched to the outside. By this time however, the Japanese challenger El Condor Pasa had opened up a three-length lead, and Montjeu had to be driven out to catch him. Montjeu overtook El Condor Pasa half a furlong from the finish and won by half a length.
Montjeu stayed in training as a four-year-old. On 29th July, he ran in England for the first time in his career when he contested the King George and Queen Elizabeth Stakes at Ascot. Montjeu showed signs of temperament in the preliminaries, as he refused to enter the paddock. Starting at odds of 1/3 he cruised into the lead in the straight and won very easily by one and three-quarter lengths from Fantastic Light. Brough Scott, of the Daily Telegraph described the performance as devastating, and compared Montjeu to past champions such as Ribot, Nijinsky, Mill Reef and Shergar.
He was made odds on favourite to win his second Arc in October. He failed to reproduce his best form however, and finished fourth to Sinndar. On his final racecourse appearance three weeks later he finished seventh behind Kalanisi in the Breeders Cup Turf.
At the end of 1999, Montjeu was voted that year's Cartier Three Year Old European Champion Colt and World Champion. Montjeu was given an official rating of 135 by the International Classification, making him the highest rated three-year-old of the season, although some, including the Racing Post, felt that the rating underestimated his achievements. Timeform concurred, giving him a mark of 137 in 1999 and 2000.
In 2001, Montjeu was retired to Coolmore Stud, in Ireland. There are few stallions in the history of thoroughbred breeding who had such a spellbinding start at stud as Montjeu.
In his first crop, he had Motivator, winner of the Racing Post Trophy as a two-year-old, and the winner of the 2005 Epsom Derby, as well as the runner-up in the same race, Walk In The Park.
Hurricane Run the winner of the Irish Derby, Prix de l'Arc de Triomphe, King George and Tattersalls Gold Cup.
Scorpion the winner of the Grand Prix De Paris, Coronation Cup and St Leger.
A total of seven Gr 1 winners in his first crop, including winners foaled from his first season in the southern hemisphere. This was a start that every sire owner dreams of.
It was no wonder that after such a performance of three-year-olds, Montjeu's fee grew from €45,000 to €125,000 for which he was offered for three consecutive season before becoming Private.
The following crops maintained the high standard. Especially the results of his progeny in staying races were excellent, including the Epsom Derby. After Blandford, Montjeu was the first stallion to produce four Epsom Derby winners (Motivator, Authorized, Pour Moi and Camelot), the same number of victories was achieved in the Irish Derby (Hurricane Run, Frozen Fire, Fame And Glory and Camelot), there were three victories in the St Leger (Scorpion, Masked Marvel and Leading Light). Four of his sons won the Racing Post Trophy and three of them, went on to win the Epsom Derby.
Another great sire by Sadler's Wells, and we will watch and write on his grandsons and great grandsons on what they achieve in years to come.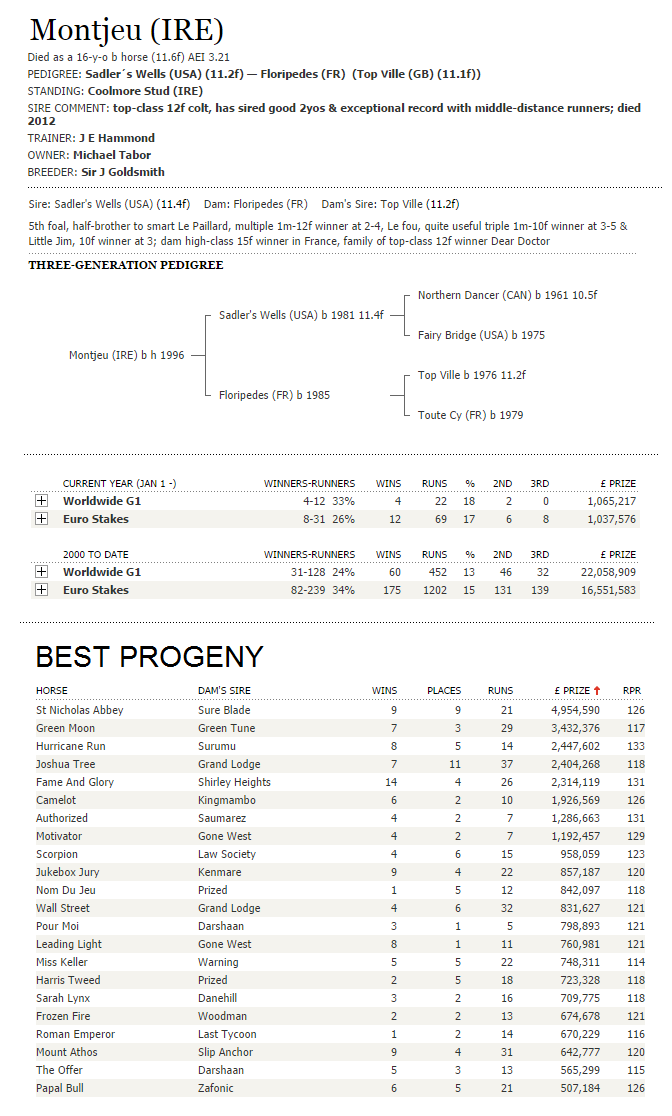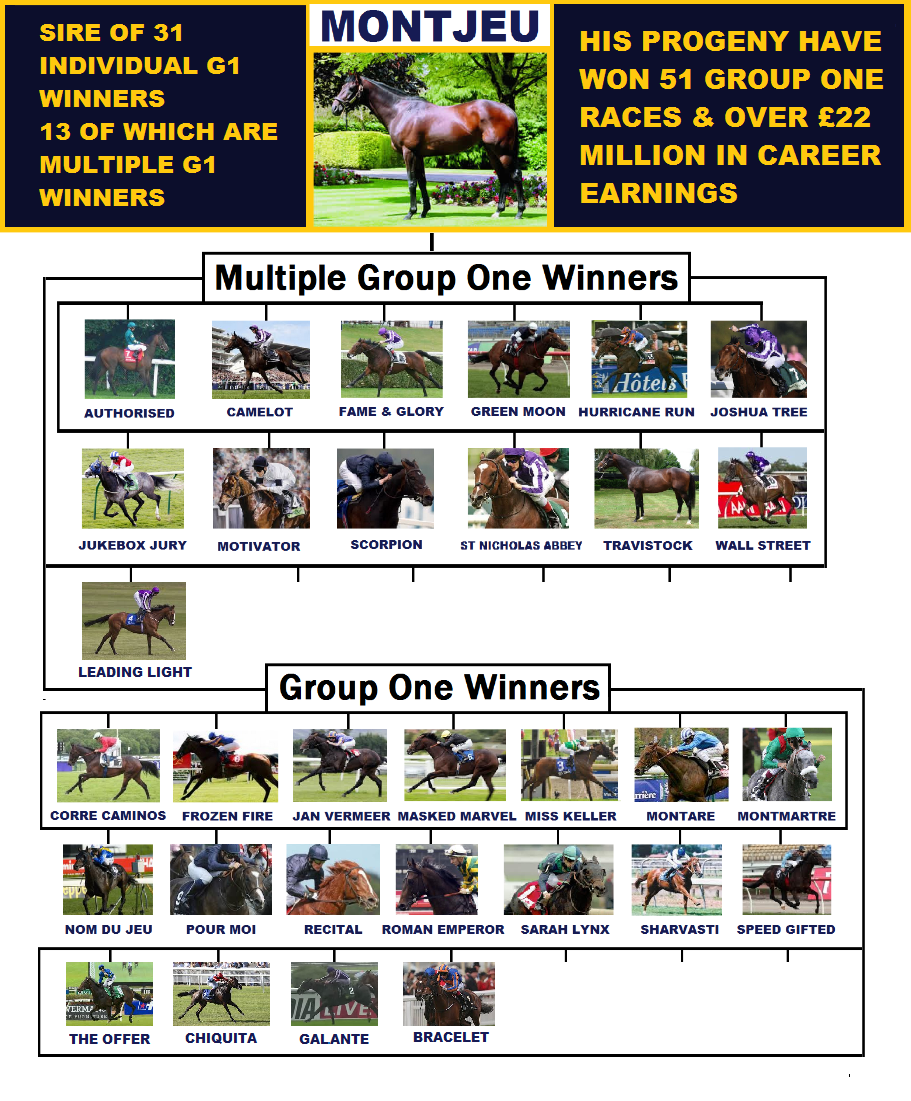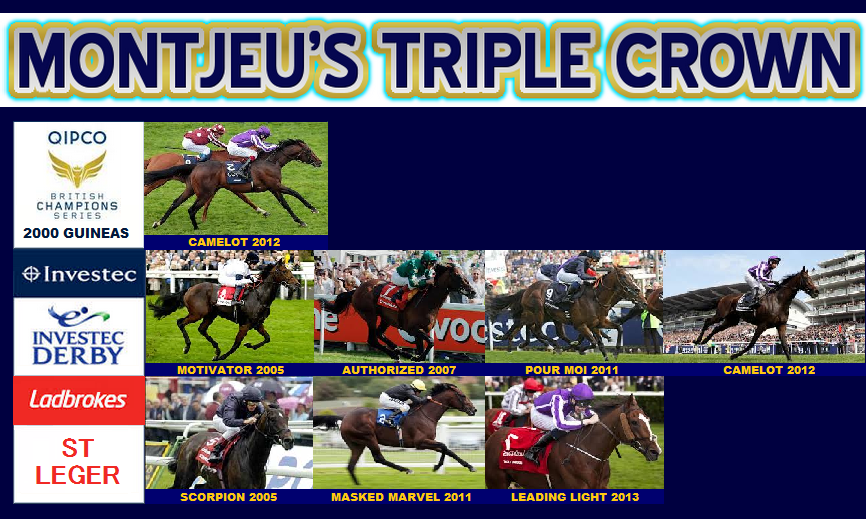 MOTJEU'S FULL LIST OF PROGENY
Descendant
Colour
Sex
Year
Dam
Sire of Dam
Aaim To Succeed (IRE)
bay
filly
2005
Dicharachera (GB)
Mark of Esteem (IRE)
Abbeyleix Lady (IRE)
bay
filly
2003
Premier Amour (IRE)
Salmon Leap (USA)
Abys (FR)
grey
filly
2010
Dibenoise (FR)
Kendor (FR)
Acqualina Beauty (IRE)
bay
filly
2003
Coolamon (USA)
Saratoga Six (USA)
Adjira (IRE)
grey
filly
2004
Katchina Quest (FR)
Highest Honor (FR)
Adjusted (IRE)
bay
colt
2011
Belesta (GB)
Xaar (GB)
Affair (FR)
bay
filly
2005
Amicella (GB)
Laroche (GER)
Afrodita (IRE)
bay
filly
2007
Aim for the Top (USA)
Irish River (FR)
Agamon Lake (FR)
bay
gelding
2011
Agathe (USA)
Manila (USA)
A Good Year (IRE)
bay
filly
2010
Noble Pearl (GER)
Dashing Blade (GB)
Achtung (GB)
bay
colt
2010
Funsie (FR)
Saumarez (GB)
Aidez Moi (NZ)
bay
filly
2004
Superior Miss (NZ)
Bassenthwaite (GB)
Aim To Please (IRE)
bay
filly
2010
Sense of Style (USA)
Thunder Gulch (USA)
Alajeu (GB)
brown
filly
2006
Alashaan (GB)
Darshaan (GB)
Alana's Gift (GB)
bay
filly
2002
Impatiente (USA)
Vaguely Noble (IRE)
Albisola (IRE)
bay
filly
2005
Mahalia (IRE)
Danehill (USA)
Alessandro Volta (GB)
bay
gelding
2005
Ventura Highway (GB)
Machiavellian (USA)
Alexandra Exter (IRE)
grey
filly
2004
White Lavender (USA)
Mt. Livermore (USA)
Alexiade (IRE)
bay
filly
2002
Aptostar (USA)
Fappiano (USA)
Al Fatih (IRE)
bay
colt
2011
Sky High Flyer (GB)
Anabaa (USA)
Alpensinfonie (IRE)
bay
filly
2007
Upper Circle (GB)
Shirley Heights (GB)
Alpine Gold (IRE)
bay
filly
2002
Ski For Gold (GB)
Shirley Heights (GB)
Altruiste (GB)
bay
filly
2007
Alborada (GB)
Alzao (USA)
Amazing Spirit (NZ)
bay
filly
2003
Blanchard (NZ)
Kaapstad (NZ)
Amzara (IRE)
bay
filly
2005
Amory (GER)
Goofalik (USA)
Angel Wind (IRE)
bay
filly
2003
Alarme Belle (GB)
Warning (GB)
Anita Mont (ITY)
bay
filly
2002
Lorenza Bertini (GB)
Star Appeal (IRE)
Annie's Fortune (IRE)
bay
filly
2010
Semaphore (GB)
Zamindar (USA)
Annus Mirabilis (IRE)
bay
colt
2011
Love Me True (USA)
Kingmambo (USA)
Another Whisper (IRE)
bay
filly
2008
Heavenly Whisper (IRE)
Halling (USA)
Anton Chekhov (GB)
bay
colt
2004
By Charter (GB)
Shirley Heights (GB)
Any Time Soon (NZ)
bay
filly
2002
In My Time (NZ)
Norman Pentaquad (USA)
Appropriate (IRE)
bay
filly
2006
Novelette (GB)
Darshaan (GB)
Arquimedes (IRE)
bay
gelding
2011
Piste Noire (USA)
Diesis (GB)
A Shin Doktor (GB)
bay
colt
2009
Solaia (USA)
Miswaki (USA)
Askar Tau (FR)
bay
gelding
2005
Autriche (IRE)
Acatenango (GER)
Ask For Love (IRE)
bay
filly
2003
Flyamore (FR)
Sanglamore (USA)
Asmera (IRE)
bay
filly
2005
Aiming Upwards (GB)
Blushing Flame (USA)
Astroglia (USA)
bay
filly
2010
Glia (USA)
A.P. Indy (USA)
Athlone (IRE)
bay
filly
2004
Almi Ad (USA)
Silver Hawk (USA)
Aubusson (IRE)
bay
filly
2005
Stitching (IRE)
High Estate (IRE)
Auld Alliance (IRE)
bay
filly
2010
Highland Gift (IRE)
Generous (IRE)
Authorized (IRE)
bay
colt
2004
Funsie (FR)
Saumarez (GB)
Autun (NZ)
bay
filly
2002
Crysell Way (NZ)
Star Way (GB)
Ava (NZ)
bay
filly
2003
Limerick (NZ)
Grosvenor (NZ)
Avida Star (IRE)
bay
filly
2005
Avida Dancer (IRE)
Ballymore (IRE)
Awe Inspiring (IRE)
bay
filly
2007
Nuriva (USA)
Woodman (USA)
Ayam Zaman (IRE)
bay
filly
2002
Kardashina (FR)
Darshaan (GB)
Balashkova (FR)
bay
filly
2010
Ecume Du Jour (FR)
Hawk Wing (USA)
Ballack (NZ)
bay
gelding
2003
Trephina (AUS)
Last Tycoon (IRE)
Ballygologue (IRE)
bay
filly
2005
Admiring (USA)
Woodman (USA)
Baroness Richter (IRE)
bay
filly
2004
Principium (USA)
Hansel (USA)
Bea Bea Three (IRE)
bay
filly
2006
Miss Beabea (IRE)
Catrail (USA)
Beautiful Game (NZ)
grey
filly
2003
Madiya (IRE)
Natroun (FR)
Beccamon (IRE)
bay
filly
2007
Rebecca Parisi (IRE)
Persian Heights (GB)
Before Me (IRE)
bay
filly
2005
Night After Night (GB)
Night Shift (USA)
Bela la Belle (GER)
bay
filly
2003
Bela-M (IRE)
Ela-Mana-Mou (IRE)
Belisarius (IRE)
bay
colt
2011
Lasting Chance (USA)
American Chance (USA)
Bella Ruth (NZ)
bay
filly
2004
Bella Astarta (NZ)
Centaine (AUS)
Belleva (NZ)
bay
filly
2003
Centuria (NZ)
Centaine (AUS)
Berling (IRE)
grey
colt
2007
Danaskaya (IRE)
Danehill (USA)
Bernieres (IRE)
bay
filly
2008
Bounce (FR)
Trempolino (USA)
Bessie Lou (IRE)
bay
filly
2006
Almond Mousse (FR)
Exit To Nowhere (USA)
Better Hand (IRE)
bay
colt
2005
Silly Game (IRE)
Bigstone (IRE)
Biens Nanti (IRE)
bay
gelding
2002
Trexana (GB)
Kaldoun (FR)
Biga (FR)
bay
filly
2004
Belua (GER)
Lomitas (GB)
Bikini Babe (IRE)
bay
filly
2007
Zeiting (IRE)
Zieten (USA)
Biographer (GB)
bay
colt
2009
Reflective (USA)
Seeking The Gold (USA)
Black Diamond (IRE)
bay
colt
2002
Jay Gee (IRE)
Second Set (IRE)
Black Eyed Susan (IRE)
bay
filly
2007
Santa Catarina (USA)
Unbridled (USA)
Blancmange (GB)
bay
filly
2007
Blue Dream (IRE)
Cadeaux Genereux (GB)
Blue Bajan (IRE)
bay
gelding
2002
Gentle Thoughts (GB)
Darshaan (GB)
Blue Pearl Sky (IRE)
bay
filly
2009
Pearl Sky (FR)
Kahyasi (IRE)
Blue White Fire (IRE)
bay
colt
2009
Desert Ease (IRE)
Green Desert (USA)
Bobby Darling (IRE)
bay
filly
2005
Karinski (USA)
Palace Music (USA)
Bon Escient (GB)
brown
filly
2005
Lettre de Cachet (USA)
Secreto (USA)
Bonjour de S'Ena (IRE)
bay
colt
2009
Bayrika (IRE)
Kahyasi (IRE)
Bonnie Bluebell (IRE)
bay
filly
2005
Spinney (GB)
Unfuwain (USA)
Boulay (IRE)
bay
filly
2006
Gamra (IRE)
Green Desert (USA)
Bounce (NZ)
brown
filly
2003
Starstepper (NZ)
Success Express (USA)
Boundless Joy (AUS)
bay
filly
2008
Elegant as Always (USA)
Nashwan (USA)
Bracelet (IRE)
bay
filly
2011
Cherry Hinton (GB)
Green Desert (USA)
Braemar Games (GB)
bay
filly
2005
Purple Heather (USA)
Rahy (USA)
Brave Play (IRE)
brown
filly
2005
Swing and Brave (IRE)
Arctic Tern (USA)
Bricmate (IRE)
bay
colt
2009
Spirit of South (AUS)
Giant's Causeway (USA)
Bristol Bay (IRE)
bay
filly
2008
Bougainvillea (GER)
Acatenango (GER)
Budapest (IRE)
bay
colt
2005
Run To Jane (IRE)
Doyoun (IRE)
Bulwark (IRE)
bay
gelding
2002
Bulaxie (GB)
Bustino (GB)
Burgundy Notes (NZ)
bay
filly
2005
Tosca (ARG)
Laramie Trail (USA)
Burmese Days (GB)
bay
filly
2003
Bougainvillea (GER)
Acatenango (GER)
Burning Heights (GER)
bay
filly
2004
Bougainvillea (GER)
Acatenango (GER)
Buttonhole (GB)
bay
filly
2008
Red Camellia (GB)
Polar Falcon (USA)
Caillebotte (IRE)
bay
gelding
2010
Catherine Linton (IRE)
Machiavellian (USA)
Calasetta (IRE)
bay
filly
2004
Mahalia (IRE)
Danehill (USA)
Calm (GB)
bay
filly
2006
Western Appeal (USA)
Gone West (USA)
Camelot (GB)
bay
colt
2009
Tarfah (USA)
Kingmambo (USA)
Campanillas (IRE)
bay
filly
2008
West Brooklyn (USA)
Gone West (USA)
Carcassonne (IRE)
bay
filly
2009
Coquerelle (IRE)
Zamindar (USA)
Carib (NZ)
bay
filly
2003
Stella Artois (NZ)
Star Way (GB)
Cascata (IRE)
bay
filly
2006
Leaping Water (GB)
Sure Blade (USA)
Catalano (NZ)
bay
filly
2002
La Tebaldi (USA)
Cure the Blues (USA)
Catchafallingstar (GB)
bay
filly
2007
Half Glance (GB)
Danehill (USA)
Cayuga (GB)
bay
gelding
2009
Ithaca (USA)
Distant View (USA)
Celtic Triumph (IRE)
bay
filly
2003
Twice The Ease (GB)
Green Desert (USA)
Century (IRE)
bay
colt
2011
Mixed Blessing (GB)
Lujain (USA)
Cinderella Girl (NZ)
bay
filly
2005
Midnight (GB)
Mark of Esteem (IRE)
Clarinda (FR)
bay
filly
2007
Clodora (FR)
Linamix (FR)
Class Is Class (IRE)
bay
gelding
2006
Hector's Girl (GB)
Hector Protector (USA)
Clowance (GB)
bay
filly
2005
Freni (GER)
Sternkönig (IRE)
Coin Broker (IRE)
bay
filly
2011
Cash Run (USA)
Seeking The Gold (USA)
Conference (IRE)
bay
filly
2005
Desert Bluebell (GB)
Kalaglow (IRE)
Cool And Chic (NZ)
bay
filly
2002
Be Cool (NZ)
Grosvenor (NZ)
Coordinated Cut (IRE)
bay
colt
2007
Apache Star (GB)
Arazi (USA)
Cora Pearl (IRE)
bay
filly
2003
Castara Beach (IRE)
Danehill (USA)
Corking (IRE)
bay
filly
2005
Scanno's Choice (IRE)
Pennine Walk (IRE)
Corre Caminos (FR)
dark bay
gelding
2002
Dibenoise (FR)
Kendor (FR)
Court Canibal (GB)
bay
colt
2005
Pas d'Heure (IRE)
Arazi (USA)
Courtney (NZ)
bay
filly
2003
Rapida (NZ)
Senor Pete (USA)
Crazy About You (IRE)
bay
filly
2005
Touch of Magic (IRE)
Brief Truce (USA)
Creme de La Creme (IRE)
bay
filly
2002
Pride of Place (IRE)
Caerleon (USA)
Crimson Rose (IRE)
bay
filly
2005
Exclusive Academy (IRE)
Royal Academy (USA)
Cristal Rose (IRE)
bay
filly
2002
Little Italy (IRE)
Common Grounds (GB)
Cushat Law (IRE)
bay
filly
2004
Blush With Love (USA)
Mt. Livermore (USA)
Dairy Maid (GB)
bay
filly
2004
Eurolink Sundance (GB)
Night Shift (USA)
Dangereux (NZ)
bay
gelding
2005
Prieur Way (NZ)
Star Way (GB)
Danjeu (IRE)
bay
colt
2011
Wanna (IRE)
Danehill Dancer (IRE)
Danse Sauvage (NZ)
bay
filly
2004
Dancing Daze (NZ)
Dance Floor (USA)
Danube (IRE)
bay
filly
2007
Darabela (IRE)
Desert King (IRE)
Dash To The Top (GB)
bay
filly
2002
Millennium Dash (GB)
Nashwan (USA)
Davidoff (GER)
bay
colt
2004
Dapprima (GER)
Shareef Dancer (USA)
Dawn Dew (GER)
grey or roan
filly
2005
Dawn Dane (FR)
Danehill (USA)
Dazzle Dancer (IRE)
bay
filly
2006
Another Dancer (FR)
Groom Dancer (USA)
Dazzle The Crowd (IRE)
bay
filly
2007
Goncharova (USA)
Gone West (USA)
Dear One (IRE)
bay
filly
2004
Siamoise (GB)
Caerleon (USA)
Decent Proposal (GB)
bay
filly
2004
Markova's Dance (GB)
Mark of Esteem (IRE)
De Rigueur (GB)
bay
gelding
2008
Exclusive (GB)
Polar Falcon (USA)
Devastation (GB)
bay
filly
2008
Attraction (GB)
Efisio (GB)
Diamantaire (NZ)
bay
filly
2003
La Brillante (NZ)
Sir Tristram (IRE)
Diamond Life (FR)
bay
filly
2007
Diamond Dance (FR)
Dancehall (USA)
Diamond Lips (IRE)
bay
filly
2006
Moon Diamond (GB)
Unfuwain (USA)
Diamond Sky (IRE)
grey
filly
2010
Danaskaya (IRE)
Danehill (USA)
Divine Attraction (FR)
bay
filly
2004
Slew Female (USA)
Seattle Slew (USA)
Dixie Music (IRE)
bay
colt
2006
Dixielake (IRE)
Lake Coniston (IRE)
Downhill Dancer (IRE)
bay
filly
2010
Wiener Wald (USA)
Woodman (USA)
Downswept (NZ)
bay
filly
2002
Audacity (NZ)
Kingdom Bay (NZ)
Drumbeat (IRE)
bay
gelding
2006
Maskaya (IRE)
Machiavellian (USA)
Dunshara Gal (NZ)
bay
filly
2002
Dunshara (USA)
Dayjur (USA)
Duty And Destiny (IRE)
bay
filly
2007
Swilly (USA)
Irish River (FR)
Echoes In The Wind (IRE)
bay
filly
2009
Preseli (IRE)
Caerleon (USA)
Eightdaysaweek (GB)
bay
filly
2006
Figlette (GB)
Darshaan (GB)
Elegans (GB)
bay
filly
2004
Aymara (GB)
Darshaan (GB)
Eliza Berry (IRE)
bay
filly
2006
Last Spin (GB)
Unfuwain (USA)
Ellen Tina (NZ)
bay
filly
2002
Glittering Riffles (USA)
Strike the Gold (USA)
Elsa (NZ)
bay
filly
2003
Leeu (NZ)
Volksraad (GB)
Emperor Bonaparte (NZ)
bay
gelding
2005
Endless Joy (NZ)
Centaine (AUS)
Enticement (GB)
bay
filly
2006
Ecoutila (USA)
Rahy (USA)
Entreves (GB)
grey
filly
2006
Etroubles (FR)
Indian Ridge (IRE)
Eradicate (IRE)
bay
gelding
2004
Coyote (GB)
Indian Ridge (IRE)
Escolhida (IRE)
bay
filly
2004
Caladira (IRE)
Darshaan (GB)
Eskulina (GB)
bay
filly
2006
Jessica's Dream (IRE)
Desert Style (IRE)
Exodus (GB)
bay
colt
2008
Spacecraft (USA)
Distant View (USA)
Fairy Festival (IRE)
bay
filly
2004
Escape to Victory (GB)
Salse (USA)
Falcon Flight (IRE)
bay
gelding
2007
Elegant as Always (USA)
Nashwan (USA)
Falkirk (IRE)
bay
colt
2011
Jewel In The Sand (IRE)
Bluebird (USA)
Faloria (IRE)
bay
filly
2002
Magiustrina (IRE)
Indian Ridge (IRE)
Falstaff (IRE)
bay
gelding
2002
Dance of Love (IRE)
Pursuit of Love (GB)
Fame and Glory (GB)
bay
colt
2006
Gryada (GB)
Shirley Heights (GB)
Fantanella (IRE)
bay
filly
2009
Floating Away (USA)
Gone West (USA)
Fashion Lady (IRE)
bay
filly
2007
No Quest (IRE)
Rainbow Quest (USA)
Fashion Show (IRE)
bay
filly
2002
Strutting (IRE)
Ela-Mana-Mou (IRE)
Favorite (GER)
bay
filly
2002
Fluid Dancer (USA)
Irish River (FR)
Fazal (FR)
bay
colt
2011
Fraloga (IRE)
Grand Lodge (USA)
Felicitous (NZ)
bay
filly
2002
Happiness (NZ)
Bluebird (USA)
Fence Postwal (AUS)
bay
gelding
2002
Terlingua Light (AUS)
Catrail (USA)
Fennel (GB)
bay
filly
2009
Phantom Wind (USA)
Storm Cat (USA)
Festive Cheer (FR)
bay
colt
2010
Bold Classic (USA)
Pembroke (USA)
First Legend (FR)
bay
filly
2005
First Choice (FR)
Exit To Nowhere (USA)
Fit For A Queen (IRE)
bay
filly
2007
Mona Lisa (GB)
Giant's Causeway (USA)
Fiuise (IRE)
bay
filly
2010
Winning Sequence (FR)
Zafonic (USA)
Flames Last (IRE)
bay
filly
2002
Flame Of Tara (IRE)
Artaius (USA)
Fleur de Cactus (IRE)
bay
filly
2009
Desert Beauty (IRE)
Green Desert (USA)
Fleur de Montjeu (IRE)
bay
filly
2005
Dancing Sensation (USA)
Faliraki (IRE)
Fleur de Nuit (IRE)
bay
filly
2005
Green Castle (IRE)
Indian Ridge (IRE)
Flying Monty (NZ)
bay
filly
2003
Anna's Choice (NZ)
Vice Regal (NZ)
Fly With Me (IRE)
bay
filly
2004
Zing Ping (IRE)
Thatching (IRE)
Fort de France (IRE)
bay
colt
2011
Penny's Gold (USA)
Kingmambo (USA)
Fortuni (IRE)
bay
gelding
2006
Desert Ease (IRE)
Green Desert (USA)
Francesca Ricci (IRE)
bay
filly
2004
Riding School (IRE)
Royal Academy (USA)
French Move (NZ)
bay
filly
2002
Scarlet Runner (NZ)
Kingdom Bay (NZ)
French Rhythm (NZ)
bay
filly
2002
Rhythm And Black (NZ)
Centaine (AUS)
Frozen Fire (GER)
bay
gelding
2005
Flamingo Sea (USA)
Woodman (USA)
Fulmonti (NZ)
bay
gelding
2002
Grosvenor's Pride (NZ)
Grosvenor (NZ)
Furzewood (IRE)
bay
filly
2005
Lila (GB)
Zafonic (USA)
Gabrial The Great (IRE)
bay
gelding
2009
Bayourida (USA)
Slew O'Gold (USA)
Gaily Game (GB)
bay
colt
2008
Gaily Tiara (USA)
Caerleon (USA)
Gallante (IRE)
bay
colt
2011
Crazy Volume (IRE)
Machiavellian (USA)
Gallant Guru (AUS)
bay
colt
2002
Proud Halo (AUS)
Don't Say Halo (USA)
Game (FR)
bay
filly
2005
Pretty (IRE)
Darshaan (GB)
Game Call (NZ)
bay
filly
2002
No Reserve (USA)
Gone West (USA)
Game Duchess (AUS)
bay
filly
2002
Mazarine (NZ)
Zabeel (NZ)
Gamine Bleue (FR)
bay
filly
2007
Gamine (IRE)
High Estate (IRE)
Gane Cathriona (IRE)
bay
filly
2003
Queen Zenobia (GB)
Danehill (USA)
Gassin Golf (GB)
bay
gelding
2009
Miss Riviera Golf (GB)
Hernando (FR)
Gehisa (FR)
bay
filly
2005
Handria (FR)
Tropular (GB)
Gemini Joan (GB)
bay
filly
2006
Cephalonie (USA)
Kris S. (USA)
Genetic Gem (NZ)
bay
filly
2004
Niniane (NZ)
Casual Lies (USA)
Geoffrey Chaucer (USA)
bay
colt
2011
Helsinki (GB)
Machiavellian (USA)
Golden Dew (IRE)
bay
filly
2002
Golden Cat (USA)
Storm Cat (USA)
Golden Eagle (GB)
bay
colt
2006
Grain Of Gold (GB)
Mr Prospector (USA)
Golden Games (IRE)
bay
filly
2006
Ski For Gold (GB)
Shirley Heights (GB)
Golden Parachute (NZ)
bay
gelding
2005
Maxamore (NZ)
Volksraad (GB)
Goldrenched (IRE)
bay
filly
2005
Sundrenched (IRE)
Desert King (IRE)
Gondorff (NZ)
bay
gelding
2003
My Funny Face (AUS)
Marscay (AUS)
Goochie (IRE)
bay
filly
2004
Royal Ulay (FR)
Selkirk (USA)
Gorky Park (NZ)
bay
colt
2003
Steluta (NZ)
Defensive Play (USA)
Gorongosa (IRE)
bay
filly
2007
Parvenue (FR)
Ezzoud (IRE)
Grace And Glory (IRE)
bay
filly
2010
Gryada (GB)
Shirley Heights (GB)
Gradara (GB)
bay
filly
2007
Gracefully (IRE)
Orpen (USA)
Grain of Salt (GB)
bay
filly
2004
Granita (CHI)
Roy (USA)
Great Quest (IRE)
bay
filly
2002
Paparazzi (IRE)
Shernazar (IRE)
Green Mile (GB)
bay
gelding
2002
Green Bird (USA)
Silver Hawk (USA)
Green Moon (IRE)
bay
colt
2007
Green Noon (FR)
Green Tune (USA)
Greymont Star (NZ)
grey
filly
2002
Star Tudor (NZ)
Star Way (GB)
Group Force (IRE)
bay
filly
2004
Allspice (GB)
Alzao (USA)
Growl (NZ)
bay
gelding
2002
The Lions Roar (NZ)
Western Symphony (USA)
Grow Up (NZ)
bay
filly
2002
Isodara (NZ)
Straight Strike (USA)
Guajara (GER)
dark bay
filly
2010
Global World (GER)
Big Shuffle (USA)
Guillotine (NZ)
grey
colt
2004
Refused The Dance (NZ)
Defensive Play (USA)
Gumerova (IRE)
bay
filly
2004
Autumn Fall (USA)
Sanglamore (USA)
Habita (IRE)
bay
filly
2009
Minnie Habit (GB)
Habitat (USA)
Halla Siamsa (IRE)
bay
filly
2004
Siamsa (USA)
Quest for Fame (GB)
Halong Bay (FR)
bay
filly
2005
Lorigane (IRE)
Singspiel (IRE)
Harris Tweed (NZ)
bay
gelding
2005
Sally (NZ)
Prized (USA)
Hasten (IRE)
bay
filly
2009
Shadow Song (IRE)
Pennekamp (USA)
Hayaat (AUS)
bay
filly
2002
Davilora Dane (IRE)
Danehill (USA)
Healing Dream (FR)
bay
filly
2008
Here On Earth (USA)
Mr Prospector (USA)
Heart of Ice (IRE)
bay
filly
2006
Helvellyn (USA)
Gone West (USA)
Heather Rose (GER)
bay
filly
2006
Hold On (GER)
Surumu (GER)
Heavenly Light (IRE)
bay
filly
2004
Granny Kelly (USA)
Irish River (FR)
Helenjeu (GB)
bay
filly
2002
Helenska (IRE)
Arazi (USA)
Hidden Door (IRE)
bay
filly
2005
Yaselda (GB)
Green Desert (USA)
Highest Bid (NZ)
bay
filly
2004
No Reserve (USA)
Gone West (USA)
Highindi (GB)
bay
filly
2002
Lalindi (IRE)
Cadeaux Genereux (GB)
Hill Queen (IRE)
bay
filly
2004
Minodora (IRE)
Marju (IRE)
Holamo (IRE)
grey
filly
2006
Holy Nola (USA)
Silver Deputy (CAN)
Holding (IRE)
bay
filly
2006
Heaven Only Knows (IRE)
High Top (IRE)
Honolulu (IRE)
bay
colt
2004
Cerulean Sky (IRE)
Darshaan (GB)
Honorjeu (NZ)
bay
filly
2004
Honor Bound (NZ)
Honor Grades (USA)
Horseguardsparade (GB)
bay
colt
2011
Honorlina (FR)
Linamix (FR)
Hurricane Fly (IRE)
bay
gelding
2004
Scandisk (IRE)
Kenmare (FR)
Hurricane Run (IRE)
bay
colt
2002
Hold On (GER)
Surumu (GER)
Chameleon (NZ)
bay
filly
2005
Brookes Way (NZ)
Star Way (GB)
Champagnelifestyle (GB)
bay
filly
2007
White Rose (GER)
Platini (GER)
Chaotic Carnival (GB)
bay
gelding
2011
Remote Romance (USA)
Irish River (FR)
Charmeuse (IRE)
bay
filly
2009
Underwater (USA)
Theatrical (IRE)
Charriol (NZ)
bay
filly
2002
My Fillee (AUS)
Joindre (AUS)
Chato Margaux (NZ)
bay
filly
2004
Margaux (NZ)
War Hawk II (GB)
Chemin De Dame (NZ)
bay
filly
2005
Westside Story (NZ)
Star Way (GB)
Cherriya (FR)
bay
filly
2008
Cherry Moon (USA)
Quiet American (USA)
Cherry Creek (IRE)
bay
filly
2007
Kicking Bird (FR)
Darshaan (GB)
Cheyenne's Star (NZ)
bay
filly
2003
Gimmick (NZ)
Sir Tristram (IRE)
Chicago (IRE)
bay
gelding
2009
Lady Karr (GB)
Mark of Esteem (IRE)
Chicquita (IRE)
bay
filly
2010
Prudenzia (IRE)
Dansili (GB)
Chilly Filly (IRE)
bay
filly
2006
Chill Seeking (USA)
Theatrical (IRE)
Chinese Whisper (IRE)
bay
colt
2004
Majinskaya (FR)
Marignan (USA)
In Bloom (IRE)
bay
filly
2008
Meek Appeal (USA)
Woodman (USA)
Indian Chief (IRE)
bay
colt
2010
Buck Aspen (USA)
Seeking The Gold (USA)
Inflammable (GB)
bay
filly
2006
Flame Valley (USA)
Gulch (USA)
Inchigeela Lass (NZ)
bay
filly
2004
Miz Wadleigh (USA)
Track Barron (USA)
Inchina (GB)
bay
filly
2009
Incheni (IRE)
Nashwan (USA)
Inquisitive Look (GB)
bay
filly
2005
Whassup (FR)
Midyan (USA)
In Step (GB)
bay
filly
2006
Heart's Harmony (GB)
Blushing Groom (FR)
Interdiamonds (GB)
bay
filly
2006
Interpose (GB)
Indian Ridge (IRE)
Interchange (IRE)
bay
filly
2005
Key Change (IRE)
Darshaan (GB)
Ionia (IRE)
bay
filly
2002
Ski Lodge (IRE)
Persian Bold (IRE)
Island Vista (GB)
bay
filly
2005
Colorvista (GB)
Shirley Heights (GB)
Janjira (GB)
bay
filly
2006
Sea Drift (FR)
Warning (GB)
Jan Vermeer (IRE)
bay
colt
2007
Shadow Song (IRE)
Pennekamp (USA)
Jehannedarc (IRE)
bay
filly
2008
Lucky Rainbow (USA)
Rainbow Quest (USA)
Je T'Adore (IRE)
bay
filly
2010
Tree Tops (GB)
Grand Lodge (USA)
Jeublanc (NZ)
bay
filly
2004
Miss Sacha (NZ)
Kaapstad (NZ)
Jeu de Mot (IRE)
bay
colt
2003
Nwaahil (IRE)
Nashwan (USA)
Jeu de Plume (IRE)
bay
filly
2007
Pieds de Plume (FR)
Seattle Slew (USA)
Jeu d'Esprit (IRE)
bay
filly
2003
Cielo Vodkamartini (USA)
Conquistador Cielo (USA)
Jeu de Vivre (IRE)
bay
filly
2008
In My Life (IRE)
Rainbow Quest (USA)
Jeunesse Lulu (IRE)
bay
filly
2006
Miss Hawai (FR)
Peintre Celebre (USA)
Jive (GER)
bay
filly
2005
Juvena (GER)
Platini (GER)
Jodie Pisati (GB)
bay
filly
2007
Extra Fancy (USA)
Danzig (USA)
John Constable (IRE)
bay
colt
2011
Dance Parade (USA)
Gone West (USA)
Jone des Champs (IRE)
bay
colt
2011
Desert Bloom (IRE)
Pilsudski (IRE)
Joshua Tree (IRE)
bay
colt
2007
Madeira Mist (IRE)
Grand Lodge (USA)
Joue Le Jeu (NZ)
bay
filly
2004
Endless Joy (NZ)
Centaine (AUS)
Jouer Le Jeu (NZ)
bay
filly
2004
Olga's Pal (NZ)
Straight Strike (USA)
Jukebox Jury (IRE)
grey
colt
2006
Mare Aux Fees (GB)
Kenmare (FR)
Julia (GB)
bay
filly
2003
Bryony Brind (IRE)
Kris (GB)
Jump for You (FR)
bay
gelding
2002
Polly's Wika (USA)
Miswaki (USA)
Just Devine (IRE)
bay
filly
2003
Shirley Blue (IRE)
Shirley Heights (GB)
Kaan (IRE)
bay
colt
2011
Wingspan (USA)
Silver Hawk (USA)
Kandykaine (IRE)
bay
filly
2009
Madura (GER)
Dashing Blade (GB)
Karistar (IRE)
bay
filly
2009
Showcall (USA)
Kingmambo (USA)
Kashira (NZ)
bay
filly
2004
Class (NZ)
Sir Tristram (IRE)
Kate's Talent (NZ)
bay
filly
2002
Scenic Bay (NZ)
Volksraad (GB)
Katimont (IRE)
bay
filly
2005
Katiyfa (IRE)
Auction Ring (USA)
Kekova (GB)
bay
filly
2006
Koniya (IRE)
Doyoun (IRE)
Kingdom (IRE)
bay
colt
2010
Shadow Song (IRE)
Pennekamp (USA)
King of Rome (IRE)
bay
gelding
2005
Amizette (USA)
Forty Niner (USA)
Kings Quay (GB)
bay
colt
2002
Glen Rosie (IRE)
Mujtahid (USA)
Kitoko (IRE)
bay
filly
2011
Breathe (FR)
Ocean of Wisdom (USA)
La Atalaya (GB)
bay
filly
2005
Tamani (IRE)
Unfuwain (USA)
Lady Artemisia (IRE)
bay
filly
2006
Crimson Glory (GB)
Lycius (USA)
Lady Francesca (GB)
bay
filly
2006
Purring (USA)
Mountain Cat (USA)
Lady Gee (NZ)
bay
filly
2002
Guinevere (IRE)
Fairy King (USA)
Lady of Burgundy (GB)
bay
filly
2006
Helena's Paris (IRE)
Peintre Celebre (USA)
Lady of Everest (IRE)
bay
filly
2007
Head In The Clouds (IRE)
Rainbow Quest (USA)
Lady Straits (IRE)
bay
filly
2003
Bering Down (USA)
Bering (GB)
Lagoon (IRE)
bay
filly
2006
Flanders (IRE)
Common Grounds (GB)
Lake Karapiro (NZ)
bay
filly
2003
Spring Rain (NZ)
Centaine (AUS)
Lake Michigan (IRE)
bay
colt
2010
Cherry Hinton (GB)
Green Desert (USA)
Lake Nova (IRE)
bay
gelding
2010
Metaphor (USA)
Woodman (USA)
La Monet (NZ)
bay
filly
2003
Vive La France (NZ)
Paris Opera (AUS)
La Mouette (NZ)
bay
filly
2003
Rune (NZ)
Star Way (GB)
L'Amour Toujours (IRE)
bay
filly
2006
Child Prodigy (IRE)
Ballad Rock (IRE)
Lana (GER)
bay
filly
2010
Landia (GB)
Acatenango (GER)
La Plesse (IRE)
bay
filly
2008
Antioquia (GB)
Singspiel (IRE)
Larking Around (SAF)
bay
filly
2005
Making Whoopee (AUS)
Anabaa (USA)
Larnach (NZ)
bay
filly
2005
Gardd (USA)
Sheikh Albadou (GB)
Late Day Sun (IRE)
bay
filly
2008
Where We Left Off (GB)
Dr. Devious (IRE)
Laura (GER)
bay
filly
2011
Laurencia (GB)
Shirley Heights (GB)
La Zubia (GB)
bay
filly
2009
Trylko (USA)
Diesis (GB)
Leading Light (IRE)
bay
colt
2010
Dance Parade (USA)
Gone West (USA)
Leaf (IRE)
bay
filly
2011
Tree Chopper (USA)
Woodman (USA)
Leala (IRE)
bay
filly
2002
Silver Bubble (USA)
Silver Hawk (USA)
Le Celibataire (NZ)
bay
gelding
2002
Nikki's Bride (NZ)
O'Reilly (NZ)
Le Grand Amour (IRE)
bay
filly
2006
L'Amour (USA)
Gone West (USA)
L'Enjoleuse (IRE)
bay
filly
2002
Machaera (GB)
Machiavellian (USA)
Lenouska (IRE)
bay
filly
2005
Crystal City (GB)
Kris (GB)
Le Paradis (FR)
bay
colt
2004
Real Wow (USA)
Woodman (USA)
Lessaady (IRE)
bay
colt
2011
Alleviate (IRE)
Indian Ridge (IRE)
Letro (GER)
bay
colt
2010
Love Academy (GER)
Medicean (GB)
Lexia (NZ)
bay
filly
2003
Mynzawine (NZ)
Jetball (AUS)
Libourne (NZ)
bay
filly
2003
Trotanoy (AUS)
Lord Seymour (IRE)
Lilting (IRE)
bay
filly
2009
Contare (GB)
Shirley Heights (GB)
Lily Le Braz (GB)
bay
filly
2005
Mar Blue (FR)
Marju (IRE)
Lindsay's Dream (GB)
bay
filly
2006
Lady Lindsay (IRE)
Danehill Dancer (IRE)
Lion Sands (GB)
bay
gelding
2004
Puce (GB)
Darshaan (GB)
Little Fighter (GER)
bay
gelding
2005
Lohsa (IRE)
Aragon (GB)
Little Memories (IRE)
bay
filly
2004
Lohsa (IRE)
Aragon (GB)
Lively Colours (NZ)
bay
filly
2004
Colors for Life (USA)
Woodman (USA)
Local Gossip (IRE)
bay
filly
2003
Paparazzi (IRE)
Shernazar (IRE)
Lolla's Spirit (IRE)
bay
filly
2003
Glenarff (USA)
Irish River (FR)
Lord Tavistock (NZ)
bay
colt
2005
Upstage (GB)
Quest for Fame (GB)
Los Cabos (GB)
bay
colt
2010
Beyond the Dream (USA)
Fusaichi Pegasus (USA)
Loulan Montjeu (GB)
brown
filly
2003
Object of Vertu (FR)
Kendor (FR)
Loulwa (IRE)
bay
filly
2004
Refined (IRE)
Statoblest (GB)
Lucky Game (FR)
bay
filly
2005
Princess Victoria (GB)
Deploy (GB)
Lyford Cay (NZ)
bay
filly
2002
Pasithea (NZ)
Crested Wave (USA)
Lyonell (GER)
bay
colt
2011
Lysuna (GER)
Monsun (GER)
Macarthur (GB)
bay
gelding
2004
Out West (USA)
Gone West (USA)
Madam Bubbles (NZ)
bay
filly
2003
Taareck (AUS)
Bluebird (USA)
Madame Echezeaux (NZ)
bay
filly
2003
Grand Echezeaux (NZ)
Zabeel (NZ)
Madame Joan (NZ)
bay
filly
2002
Cremisi (AUS)
Royal Academy (USA)
Madame Sophie (GER)
dark bay
filly
2005
Moneypenny (GER)
Neshad (USA)
Madeleine De Belle (NZ)
bay
filly
2002
Maxamore (NZ)
Volksraad (GB)
Madonna Dell'orto (GB)
bay
filly
2007
Sabria (USA)
Miswaki (USA)
Maidin Maith (IRE)
bay
filly
2006
Majinskaya (FR)
Marignan (USA)
Maidjeu (NZ)
bay
filly
2002
The Maid (NZ)
Clay Hero (AUS)
Majestical (NZ)
bay
gelding
2003
Grosvenor's Pride (NZ)
Grosvenor (NZ)
Ma Joie (IRE)
bay
filly
2010
Hideaway (FR)
Cape Cross (IRE)
Make The News (IRE)
bay
colt
2010
Market Slide (USA)
Gulch (USA)
Malafemina (GB)
grey
filly
2004
Lady of the Turf (NZ)
Kenfair (NZ)
Marceline (NZ)
bay
filly
2003
Super Sound (NZ)
Sound Reason (CAN)
Marea Alta (NZ)
bay
filly
2005
Semper Fidelis (NZ)
Grosvenor (NZ)
Maria Royal (IRE)
bay
filly
2007
Notable (GB)
Zafonic (USA)
Marie Jeanne (GB)
bay
filly
2008
Carafe (GB)
Selkirk (USA)
Martyenne (IRE)
bay
filly
2004
Mauricienne (FR)
Green Tune (USA)
Masked Marvel (GB)
bay
colt
2008
Waldmark (GER)
Mark of Esteem (IRE)
Massalia (IRE)
bay
filly
2002
Devil's Bones (USA)
Devil's Bag (USA)
Massuci (IRE)
bay
filly
2002
Darina (IRE)
Danehill (USA)
Matiatte (IRE)
bay
filly
2003
Tamaya (IRE)
Darshaan (GB)
Matja (FR)
bay
filly
2002
Rabea (USA)
Devil's Bag (USA)
Maun Vrat (IRE)
bay
filly
2009
Delauncy (GB)
Machiavellian (USA)
Mauria (NZ)
bay
filly
2003
Miss Max (NZ)
Volksraad (GB)
Mavalenta (IRE)
bay
filly
2007
Velouette (GB)
Darshaan (GB)
May (GB)
bay
filly
2003
Wanton (GB)
Kris (GB)
Mayano Dunshara (NZ)
bay
filly
2003
Dunshara (USA)
Dayjur (USA)
Mazea (IRE)
bay
filly
2002
Filly Mignonne (IRE)
Nashwan (USA)
Mazzarina (IRE)
bay
filly
2003
Conca Peligna (GB)
Persian Bold (IRE)
Melania (NZ)
bay
filly
2002
Tycoon Pet (AUS)
Last Tycoon (IRE)
Melody Fair (IRE)
bay
filly
2005
Manchaca (FR)
Highest Honor (FR)
Memorata (GB)
bay
filly
2004
Polish Lake (GB)
Polish Precedent (USA)
Mercury Blue (GB)
bay
filly
2004
Rowan Flower (IRE)
Ashkalani (IRE)
Merville (FR)
bay
filly
2008
Tonnara (IRE)
Linamix (FR)
Mes Yeux Bleus (NZ)
bay
filly
2005
Bluiski (AUS)
Semipalatinsk (USA)
Metaphoric (IRE)
bay
gelding
2004
Virgin Hawk (USA)
Silver Hawk (USA)
Mettre En Jeu (NZ)
bay
colt
2003
Delgatie Queen (NZ)
Spectacular Love (USA)
Miami Tallyce (IRE)
bay
filly
2004
Altishaan (GB)
Darshaan (GB)
Mickeyrune (NZ)
brown
filly
2002
Rune (NZ)
Star Way (GB)
Midnight Game (GB)
bay
colt
2007
Midnight Angel (GER)
Acatenango (GER)
Milly Molly (NZ)
bay
filly
2002
Zatsalady (NZ)
Zabeel (NZ)
Minikin (IRE)
bay
filly
2007
Discreet Brief (IRE)
Darshaan (GB)
Miracolia (IRE)
bay
filly
2004
Zivania (IRE)
Shernazar (IRE)
Miss Crystal (IRE)
bay
filly
2011
Crystal Curling (IRE)
Peintre Celebre (USA)
Miss Keller (IRE)
bay
filly
2006
Ingozi (GB)
Warning (GB)
Miss Montjeu (NZ)
brown
filly
2003
Mer du Sud (IRE)
Bluebird (USA)
Miss Montjeu (AUS)
bay or brown
filly
2002
Happy Season (NZ)
Last Tycoon (IRE)
Miss Pemberley (IRE)
bay
filly
2002
Stitching (IRE)
High Estate (IRE)
Miss Relentless (NZ)
bay
filly
2002
Nothing Less (NZ)
Star Way (GB)
Miss Riviera (NZ)
bay
filly
2004
Miss Paris (NZ)
Flying Spur (AUS)
Miss Rochester (IRE)
bay
filly
2005
Pilgrim's Way (USA)
Gone West (USA)
Miss Shivvy (IRE)
bay
filly
2002
Castellane (FR)
Danehill (USA)
Miss Tuff (NZ)
bay
filly
2003
Dainty (NZ)
Fairy King (USA)
Miss You Too (GB)
bay
filly
2010
Portrait of A Lady (IRE)
Peintre Celebre (USA)
Mister Aviation (IRE)
bay
colt
2010
Gamra (IRE)
Green Desert (USA)
Mizzna (NZ)
bay
filly
2003
Kiss It Better (AUS)
Catrail (USA)
Modave (NZ)
brown
filly
2004
Vedodara (NZ)
Kreisler (IRE)
Modern Eagle (GER)
bay
filly
2010
Millionaia (IRE)
Peintre Celebre (USA)
Modern Glamour (NZ)
bay
filly
2003
Windrush (NZ)
Nassipour (USA)
Mojita (IRE)
bay
filly
2008
Hatalan (GB)
Mark of Esteem (IRE)
Momentus (IRE)
bay
filly
2011
Race for the Stars (USA)
Fusaichi Pegasus (USA)
Monaco Mist (IRE)
bay
filly
2010
Madeira Mist (IRE)
Grand Lodge (USA)
Mon Beau Cheval (NZ)
bay
filly
2005
Prized Gem (NZ)
Prized (USA)
Money Penny (ITY)
bay
filly
2004
Miss Marisa (IRE)
Beldale Flutter (USA)
Mongrin (IRE)
bay
filly
2003
Grinning (IRE)
Bellypha (IRE)
Monchelle (AUS)
bay
filly
2003
Fleur des Champs (IRE)
Danehill (USA)
Moniette (NZ)
bay
filly
2003
Lady Genesis (NZ)
Star Way (GB)
Monique (NZ)
bay
filly
2003
Barents Sea (USA)
Sea Hero (USA)
Monjarni (NZ)
bay
filly
2003
Niniane (NZ)
Casual Lies (USA)
Mon Jolie (NZ)
bay
filly
2003
Viva Lyphard (USA)
Lyphard (USA)
Monjouet (IRE)
bay
filly
2004
Alberelle (GB)
Rudimentary (USA)
Mon Michel (IRE)
bay
gelding
2003
Miniver (IRE)
Mujtahid (USA)
Monrose (NZ)
bay
filly
2005
Penang Rose (NZ)
Kingdom Bay (NZ)
Monsusu (IRE)
bay
filly
2002
Susun Kelapa (USA)
St. Jovite (USA)
Montaff (GB)
bay
gelding
2006
Meshhed (USA)
Gulch (USA)
Montahlia (NZ)
bay
filly
2003
Zatsalady (NZ)
Zabeel (NZ)
Montalegre (IRE)
bay
colt
2002
Alma Alegre (IRE)
Lahib (USA)
Montani (NZ)
bay
filly
2002
Tearrunner (USA)
Skywalker (USA)
Montare (IRE)
bay
filly
2002
Contare (GB)
Shirley Heights (GB)
Montare (NZ)
bay
filly
2003
Elusive Quarry (NZ)
Zabeel (NZ)
Montavator (NZ)
bay
filly
2003
Comely's Pride (AUS)
Vettori (IRE)
Montbretia (GB)
bay
filly
2005
Bayswater (GB)
Caerleon (USA)
Montcalm (IRE)
bay
filly
2002
Autumn Fall (USA)
Sanglamore (USA)
Montclair (IRE)
bay
colt
2010
Minaccia (GER)
Platini (GER)
Montdeux (NZ)
bay
filly
2004
Court Ballet (NZ)
Zabeel (NZ)
Montdior (AUS)
bay
filly
2003
Madonna (AUS)
Rigoletto (AUS)
Montecito (GB)
bay
filly
2002
Dancing Fire (USA)
Dayjur (USA)
Monte Karlo (NZ)
bay
filly
2005
Karman Gal (IRE)
Persian Bold (IRE)
Monteleone (IRE)
bay
filly
2002
Rainbow Goddess (GB)
Rainbow Quest (USA)
Montelissima (IRE)
bay
filly
2007
Issa (GB)
Pursuit of Love (GB)
Montesse (IRE)
bay
filly
2007
Sankara (IRE)
Darshaan (GB)
Mont Etoile (IRE)
bay
filly
2003
Troyes (GB)
Troy (GB)
Mont Fay (NZ)
bay
filly
2002
Field Nymph (NZ)
Northfields (USA)
Mont Gold (NZ)
bay
filly
2003
Accent On Gold (USA)
Deputy Minister (CAN)
Montgomery (NZ)
bay
gelding
2005
All Zalute (NZ)
Zabeel (NZ)
Montique Princess (NZ)
bay
filly
2002
Mystic Flight (USA)
Silver Hawk (USA)
Montjee (NZ)
bay
gelding
2002
Evolution (NZ)
Star Way (GB)
Montjess (IRE)
bay
filly
2010
Wing Stealth (IRE)
Hawk Wing (USA)
Montjeu Abu (IRE)
bay
filly
2003
Circus Maid (IRE)
High Top (IRE)
Montjeu Baby (IRE)
bay
filly
2002
Catch The Lights (GB)
Deploy (GB)
Montjeu Madame (NZ)
bay
filly
2004
National Dream (AUS)
Rory's Jester (AUS)
Montjeu Minder (IRE)
bay
colt
2010
Whos Mindin Who (IRE)
Danehill Dancer (IRE)
Montjeu's Melody (IRE)
bay
filly
2004
Pride of Place (IRE)
Caerleon (USA)
Montmarie (FR)
bay
filly
2005
Flyamore (FR)
Sanglamore (USA)
Montmartre (NZ)
brown
filly
2002
Shine On Me (GB)
Machiavellian (USA)
Montmartre (FR)
grey
colt
2005
Artistique (IRE)
Linamix (FR)
Mon Tour (GB)
bay
gelding
2004
Flamingo Queen (GER)
Surumu (GER)
Montoux (AUS)
bay
filly
2002
Amnesia (NZ)
Desert Sun (GB)
Montparnasse (NZ)
bay
filly
2002
Argante (NZ)
Star Way (GB)
Montpellier (IRE)
bay or brown
gelding
2003
Ring of Esteem (GB)
Mark of Esteem (IRE)
Montreux (NZ)
bay
filly
2002
Tristram's Choice (NZ)
Jetball (AUS)
Montriana (NZ)
bay
filly
2003
Adrianna (NZ)
Kaapstad (NZ)
Montwest (NZ)
bay
filly
2004
Westside Story (NZ)
Star Way (GB)
Montylish (IRE)
bay
filly
2006
Stylish (GB)
Anshan (GB)
Monyaar (IRE)
bay
filly
2007
Ikhteyaar (USA)
Mr Prospector (USA)
Monzahra (NZ)
bay
filly
2002
Zahra (NZ)
Zabeel (NZ)
Mooakada (IRE)
grey
filly
2006
Sulaalah (IRE)
Darshaan (GB)
Mooretown Lady (IRE)
bay
filly
2003
Chaturanga (GB)
Night Shift (USA)
Moorunda Lass (AUS)
bay
filly
2005
Citidevil (NZ)
Citidancer (IRE)
Morant Bay (IRE)
bay
filly
2009
Quad's Melody (IRE)
Spinning World (USA)
Morilles (GB)
bay
filly
2009
Niner's Home (USA)
Forty Niner (USA)
Morning Calm (GB)
bay
filly
2006
Tempting Prospect (GB)
Shirley Heights (GB)
Moskova (IRE)
grey
filly
2003
Russian Rebel (GB)
Machiavellian (USA)
Motion of Power (GER)
bay
filly
2009
Majorata (GER)
Acatenango (GER)
Motivator (GB)
bay
colt
2002
Out West (USA)
Gone West (USA)
Mountain (IRE)
bay
gelding
2003
Skidmore Girl (USA)
Vaguely Noble (IRE)
Mountain Kingdom (IRE)
bay
gelding
2011
Althea Rose (IRE)
Green Desert (USA)
Mountain Woman (IRE)
bay
filly
2008
Preseli (IRE)
Caerleon (USA)
Mount Athos (IRE)
bay
gelding
2007
Ionian Sea (GB)
Slip Anchor (GB)
Mount Crystal (IRE)
bay
filly
2008
State Crystal (IRE)
High Estate (IRE)
Mount Helicon (GB)
bay
gelding
2005
Model Queen (USA)
Kingmambo (USA)
Mount Lavinia (IRE)
bay
filly
2005
Havinia (GB)
Habitat (USA)
Mount Patrick (IRE)
bay
filly
2006
Siamoise (GB)
Caerleon (USA)
Moveoverrover (IRE)
bay
filly
2002
Snappy Dresser (IRE)
Nishapour (FR)
Mr Tipsy (NZ)
bay
gelding
2004
Fairy Tipsy (NZ)
Casual Lies (USA)
Mr Vegas (IRE)
bay
colt
2002
Germignaga (ITY)
Miswaki Tern (USA)
Musardiere (GB)
bay
filly
2002
Majestic Image (GB)
Niniski (USA)
My Game (NZ)
bay
filly
2004
Mary Robinson (NZ)
Lord Ballina (AUS)
My Moonlight (AUS)
bay
filly
2004
Shine On Me (GB)
Machiavellian (USA)
Myrtlewood (IRE)
grey
filly
2009
Walkamia (FR)
Linamix (FR)
Mystic Melody (IRE)
bay
filly
2009
Three Owls (IRE)
Warning (GB)
Mystify (NZ)
bay
filly
2002
Seamist (NZ)
Beaufort Sea (USA)
Mystique (NZ)
bay
filly
2005
Seamist (NZ)
Beaufort Sea (USA)
Naval Escort (NZ)
bay
gelding
2005
Valley Court (NZ)
Pompeii Court (USA)
Neardown Knight (GB)
bay
colt
2003
Breakfast Bay (IRE)
Charnwood Forest (IRE)
Never Can Tell (IRE)
bay
filly
2007
Shaanara (IRE)
Darshaan (GB)
New Couture (IRE)
bay
filly
2006
New Design (IRE)
Bluebird (USA)
New River (IRE)
bay
filly
2008
Quiet Waters (USA)
Quiet American (USA)
Night Dhu (GB)
grey
filly
2002
Kenmist (GB)
Kenmare (FR)
Niraikanai (IRE)
bay
filly
2004
Tamariyya (IRE)
Alzao (USA)
Noble Prince (GER)
bay
gelding
2004
Noble Pearl (GER)
Dashing Blade (GB)
Nom Du Jeu (NZ)
brown
colt
2004
Prized Gem (NZ)
Prized (USA)
Noosa (IRE)
bay
filly
2006
Snugfit Rosie (GER)
Kris (GB)
Northern Night (AUS)
bay
filly
2002
On Air (NZ)
Mi Preferido (USA)
Northern Star (IRE)
bay
filly
2010
Slow Sand (USA)
Dixieland Band (USA)
Notti Magiche (FR)
bay
colt
2010
Sea Sex Sun (GB)
Desert Prince (IRE)
Nuit de Jeux (FR)
bay
filly
2003
Reve de Nuit (IRE)
Deploy (GB)
Numero Douze (NZ)
bay
filly
2002
Tristachine (NZ)
Sir Tristram (IRE)
Offer (IRE)
bay
colt
2009
Valdara (GB)
Darshaan (GB)
Oh So Beautiful (IRE)
bay
filly
2007
Dart Board (IRE)
Darshaan (GB)
Old Jock (NZ)
bay
gelding
2005
Ma Danseuse (NZ)
Dance Floor (USA)
Ol' Man River (IRE)
bay
colt
2012
Finsceal Beo (IRE)
Mr Greeley (USA)
Ommadawn (IRE)
bay
filly
2004
Bonheur (IRE)
Royal Academy (USA)
Only A Pleasure (IRE)
bay
colt
2009
Sense of Style (USA)
Thunder Gulch (USA)
Orange Lady (IRE)
bay
filly
2004
Young Affair (IRE)
Mukaddamah (USA)
Ornellaia (NZ)
bay
filly
2002
Riverina Charm (NZ)
Sir Tristram (IRE)
Pacific Wave (IRE)
bay
colt
2009
Waterways (IRE)
Alhaarth (IRE)
Pacifique (IRE)
bay
filly
2008
Platonic (GB)
Zafonic (USA)
Pagan Game (IRE)
bay
filly
2002
Pagan Rhythm (USA)
Joanie's Chief (USA)
Panettone (IRE)
bay
filly
2009
Tea Break (GB)
Daylami (IRE)
Papal Bull (GB)
bay
colt
2003
Mialuna (GB)
Zafonic (USA)
Paratonnerre (GB)
bay
filly
2011
Platonic (GB)
Zafonic (USA)
Par Jeu (GB)
bay
filly
2002
Musical Twist (USA)
Woodman (USA)
Partee's Over (NZ)
bay
filly
2004
Louders (NZ)
Danasinga (AUS)
Partita (GB)
grey
filly
2011
Dali's Grey (GB)
Linamix (FR)
Party Line (GB)
bay
filly
2009
Party (IRE)
Cadeaux Genereux (GB)
Passchendaele (NZ)
bay
filly
2005
Classic Babe (NZ)
Classic Fame (USA)
Peanut Butter (IRE)
bay
filly
2006
Zelda (IRE)
Caerleon (USA)
Pearl Castle (IRE)
bay
gelding
2010
Ghurra (USA)
War Chant (USA)
Pennys Tune (IRE)
bay
filly
2007
Diarshana (GER)
Darshaan (GB)
Perelada (FR)
bay
filly
2006
Pharma West (USA)
Gone West (USA)
Persefona (IRE)
bay
filly
2006
Top Forty (GB)
Rainbow Quest (USA)
Perspective Nevski (GB)
bay
filly
2006
Real Secret (IRE)
Danehill (USA)
Pertinacious (NZ)
bay
filly
2003
Sarwatch (NZ)
Jetball (AUS)
Petit Montjeu (GB)
bay
colt
2010
Puce (GB)
Darshaan (GB)
Phenomenale (IND)
dark bay
filly
2005
Contrarian (IRE)
Mujadil (USA)
Picking Up Pieces (IRE)
bay
colt
2009
Bee Eater (IRE)
Green Desert (USA)
Pierian (NZ)
bay
filly
2002
Nimue (NZ)
Star Way (GB)
Pink Symphony (GB)
bay
filly
2007
Blue Symphony (GB)
Darshaan (GB)
Piping (IRE)
bay
filly
2007
Saganeca (USA)
Sagace (FR)
Plinth (IRE)
bay
gelding
2010
Crazy Volume (IRE)
Machiavellian (USA)
Pnyka (IRE)
bay
filly
2005
Crystal Valkyrie (IRE)
Danehill (USA)
Polonesa (GB)
bay
filly
2006
Shopping for Love (USA)
Not For Love (USA)
Popmurphy (GB)
bay
gelding
2006
Lady Lahar (GB)
Fraam (GB)
Portofino Bay (IRE)
bay
filly
2005
Sallanches (USA)
Gone West (USA)
Potters Cay (NZ)
bay
filly
2004
Pasithea (NZ)
Crested Wave (USA)
Pour Moi (IRE)
bay
colt
2008
Gwynn (IRE)
Darshaan (GB)
Prey (AUS)
bay
filly
2005
Elusive Quarry (NZ)
Zabeel (NZ)
Priera Menta (IRE)
dark bay
filly
2004
Plume Bleu Pale (USA)
El Gran Senor (USA)
Prior Princess (NZ)
bay
filly
2003
Prieur Way (NZ)
Star Way (GB)
Purga (IRE)
bay
filly
2004
Charmante (USA)
Alydar (USA)
Queen Hill (FR)
bay
filly
2004
Luna Hill (FR)
Danehill (USA)
Queen Of Avalon (NZ)
bay
filly
2004
Argante (NZ)
Star Way (GB)
Queen of The Game (IRE)
bay
filly
2003
Queen of Norway (USA)
Woodman (USA)
Queen's Ballerina (IRE)
bay