For Aidan O'Brien, 2016 started with Minding at the 1000 Guineas in Newmarket and ended with Highland Reel at the Breeders' Cup in Santa Anita.
The 25 Grade One victories by legendary American trainer, the late Bobby Frankel, in 2003 seemed unattainable.
But O'Brien, 47, had twice reached 23 top-level winners in the past and for much of this year a new world best seemed almost certain, only to falter - if that is the word - at the very end.
The last 12 months have been stellar by any high standards, and virtually unimaginable. It was a sign of things to come when he saddled the first three home in the Qipco 1000 Guineas with Minding, Ballydoyle and Alice Springs at Newmarket.
He then went into the record books with a similar feat in Europe's premier middle-distance race, the Prix de l'Arc de Triomphe, courtesy of Found, Highland Reel and Order Of St George.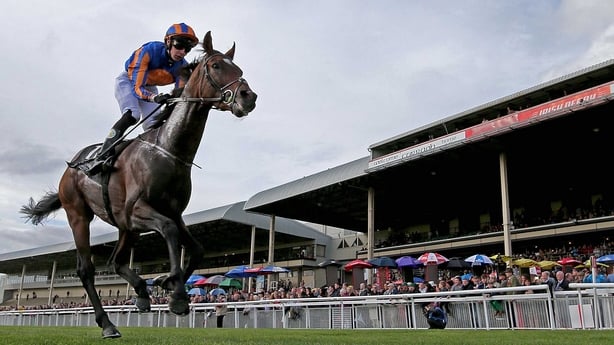 If that was not enough, then he promptly mopped up the two major prizes for two-year-olds at Newmarket.
Only O'Brien could back up a one-two with Rhododendron and Hydrangea in the Dubai Fillies' Mile by repeating the trick with Churchill and Lancaster Bomber in the Dubai Dewhurst Stakes just 24 hours later. His top-level tally on the Flat at that stage stood at 20.
The magnificent Minding took it to 21 as she added to her 1000 Guineas, Oaks and Nassau wins when flooring the boys in the Queen Elizabeth II Stakes at Ascot on Champions Day.
And it was back to that horse Highland Reel for No.22 as Seamus Heffernan gave the King George hero a truly magnificent ride in the Breeders' Cup Turf at Santa Anita, with Found third on her final run before retirement.
O'Brien has, of course, had a lot to live up in scaling the heights of his predecessor and namesake, Vincent O'Brien, having moved into Ballydoyle in 1996.
The earlier incumbent had changed the face of both jumps and Flat racing on both sides of the Irish Sea as well as Europe by transforming what was a backwater
He won the crown jewels in both codes - the Cheltenham Gold Cup, Champion Hurdle and Grand National over jumps and the Classics many times over on the Flat in a splendid career spanning 50 years (1943- 1993).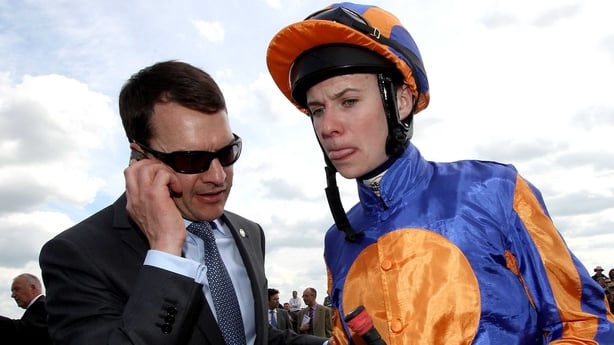 The Triple Crown is one omission from his glittering CV. Vincent managed it with Nijinsky in 1970 and O'Brien went agonisingly close with Camelot in 2012. He was second in the St Leger after winning the 2000 Guineas and the Derby.
With major races captured in Europe and North America, there were very few other territories to be conquered, although the Melbourne Cup is certainly a realistic objective in the future.
Looking back on his achievements this year, O'Brien - who also saw Ivanovich Gorbatov win at Cheltenham in his name in March - was typically modest and quick to deflect the praise on to the people around him.
He said: "Yes, we have had a good year, it's true. It is down to a lot of hard work by a lot of people.
"We have been very lucky this season in that we have had some very good horses that have progressed throughout the year, and that has obviously been important in the year overall."
Yes, 2016 was quite the year for Aidan O'Brien.
The things they said in a year in which Aidan O'Brien saddled an astonishing 22 Group/Grade One winners, including the first three in the Prix de l'Arc de Triomphe:
RYAN MOORE, JOCKEY
"To saddle the first three in an Arc, and to get three horses there in top shape and beat the best around, is quite incredible. All the superlatives have been said about Aidan. He is one of the great trainers."
MICHAEL DICKINSON, FORMER TRAINER
"It's great to have the power of Coolmore behind him, but he does a brilliant job training them."
JOHN MAGNIER, COOLMORE SUPREMO
"That man is so dedicated. So is the whole family. The amount of work and effort they put into running Ballydoyle and looking after those horses is exceptional."
JOHNNY MURTAGH, FORMER JOCKEY-TURNED-TRAINER
"It's not just yesterday or today or this year, he's been doing it for a long time. He's just a genius at what he does and I suppose all those Galileos is a huge help."
FRANKIE DETTORI, JOCKEY
"The man is just unreal. Having three runners in the Arc is hard enough, but to have the one-two-three is beyond belief."
LLOYD WILLIAMS, PROMINENT AUSTRALIAN OWNER
"In any of the business I have been in, Aidan shows the most attention to detail of anyone I have ever met. He is amazing the way he trains and knows his horses. His record is incredible."
TONY McCOY, FORMER JUMPS JOCKEY
"He produces the goods time and time again. It would not surprise me if Aidan O'Brien were to become the most successful trainer of all time. That's not a matter of opinion, it's a matter of fact."
JOSEPH O'BRIEN, AIDAN'S SON
"If I learned one thing from Dad, it was to try and keep things as simple as possible."
Aidan O'Brien's 22 Group/Grade One winners on the Flat this year:
1. Minding (1000 Guineas, Newmarket, May 1)
2. The Gurkha (French 2000 Guineas, Deauville, May 15)
3. Minding (Oaks, Epsom, June 3)
4. Order Of St George (Gold Cup, Royal Ascot, June 16)
5. Minding (Pretty Polly Stakes, Curragh, June 26)
6. Alice Springs (Falmouth Stakes, Newmarket, July 8)
7. Deauville (Belmont Derby, Belmont Park, July 9)
8. Seventh Heaven (Irish Oaks, Curragh, July 16)
9. Highland Reel (King George VI And Queen Elizabeth Stakes, Ascot, July 23)
10. The Gurkha (Sussex Stakes, Goodwood, July 27)
11. Minding (Nassau Stakes, Goodwood, July 30)
12. Caravaggio (Phoenix Stakes, Curragh, August 7)
13. Seventh Heaven (Yorkshire Oaks, York, August 18)
14. Alice Springs (Matron Stakes, Leopardstown, September 10)
15. Churchill (National Stakes, Curragh, September 11)
16. Brave Anna (Cheveley Park Stakes, Newmarket, September 24)
17. Alice Springs (Sun Chariot Stakes, Newmarket, October 1)
18. Found (Prix de l'Arc de Triomphe, Chantilly, October 2)
19. Rhododendron (Fillies' Mile, Newmarket, October 7)
20. Churchill (Dewhurst Stakes, Newmarket, October 8)
21. Minding (Queen Elizabeth II Stakes, Ascot, October 15)
22. Highland Reel (Breeders' Cup Turf, Santa Anita, November 5)
----------------------------------------------------------------------------------------------------------------------------------------------------------