DANEHILL
(Layout & Pictures to be added at later stage)

Danehill By Andrew O'Brien (Full List Of Progeny at bottom of page)

Danehill was foaled on 26th March 1986. He was a bay stallion by sire Danzig (Northern Dancer) He was bred in the United States. Trained by Jeremy Tree and owned by Khalid Abdullah.
Danehill made his racecourse debut on 7th July 1988. He finished second in a Newmarket maiden over 6 furlongs.
Danehill finished third in the 1989 2000 Guineas won by Nashwan, beaten one and a half lengths. His next race was the Irish 2000 Guineas, where he finished fourth, beaten four and a half lengths. At Royal Ascot he was stepped back in trip, and ran in the group 3 Cork and Orrery Stakes, now known as (Group 1 Diamond Jubilee Stakes) He excelled at this trip and won comfortably by three lengths.
On his final start in September 1989, Danehill ran in the group 1 sprint cup at Haydock. He quickened in the final furlong to win by two lengths.
Danehill ran nine times, winning four races and only twice finishing unplaced. During his racing career he earned a total of £177,465.
Danehill was then retired to stud duties in 1990 at Coolmore Stud in Ireland.
He came to Australia as a shuttle stallion in 1990. At the end of the stud season, he returned to Coolmore Stud in Ireland. He was an immediate sensation at stud in Australia, where he was leading sire on many occasions. Danehill returned to Australia ten more times and also served one season at stud in Japan during 1996.
With his appeal to European breeders, he became the first high profile shuttle stallion, standing the northern hemisphere covering season at Coolmore's Irish stud. Coolmore subsequently became his sole owner after a £15 million deal, making him the most valuable thoroughbred in Australian breeding history.
Danehill's success in Europe was just as spectacular, exemplified by son's such as horse of the year Rock Of Gibraltar and dual Classic winner Desert King.
Son Dylan Thomas Prix de l'Arc de Triomphe. Even more significantly, many of his sons are now emerging as top stallions and his bloodline looks sure to become a mainstay of thoroughbred pedigrees like that of his illustrious sire and grandsire. His son, the Australian sire, Redoute's Choice, stands at a fee of £50,000. In Europe, sons such as Danehill Dancer and Dansili are now established among the top class sires.
His progeny have won more than £200 million. He was the leading sire in Australia nine times, the leading sire in Great Britain and Ireland three times, and the leading sire in France twice.
Danehill is the paternal grandsire of Makybe Diva (Desert King), who won the Melbourne Cup three times. He has now also become a leading broodmare sire of, among a host of top-class horses, superstar miler Frankel, Danedream who won the Arc in 2011 in record time, dual Classic winner Golden Lilac, two-year-old champion Teofilo.
On 13 May 2003, Danehill died in a paddock accident at Coolmore Stud. He was being hand-led in his paddock when he reared playfully and landed awkwardly, breaking a hip. Even with some of the world's best veterinary practitioners on hand, it was decided there was no alternative but to put the horse down. Coolmore received £36 million from their insurance upon his death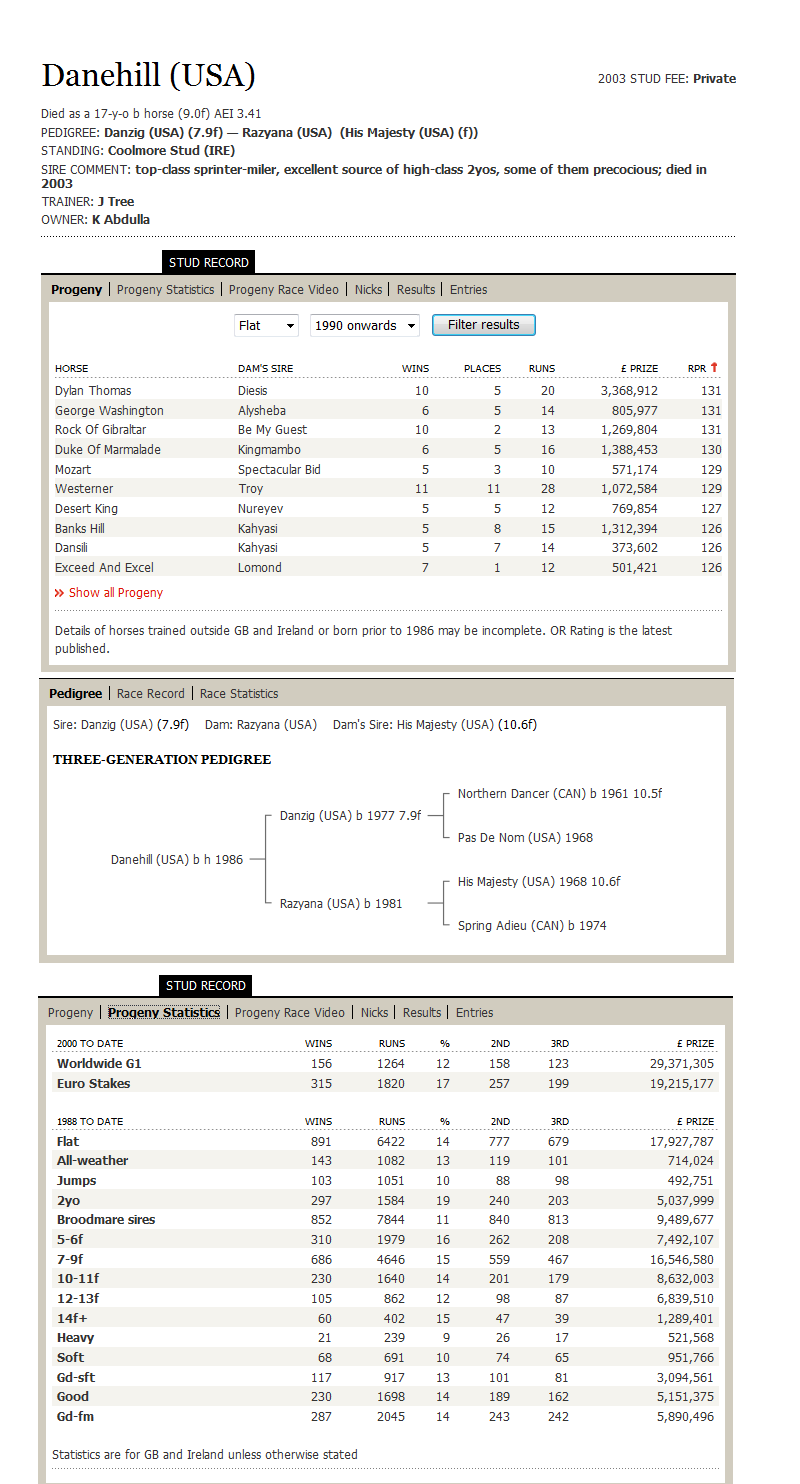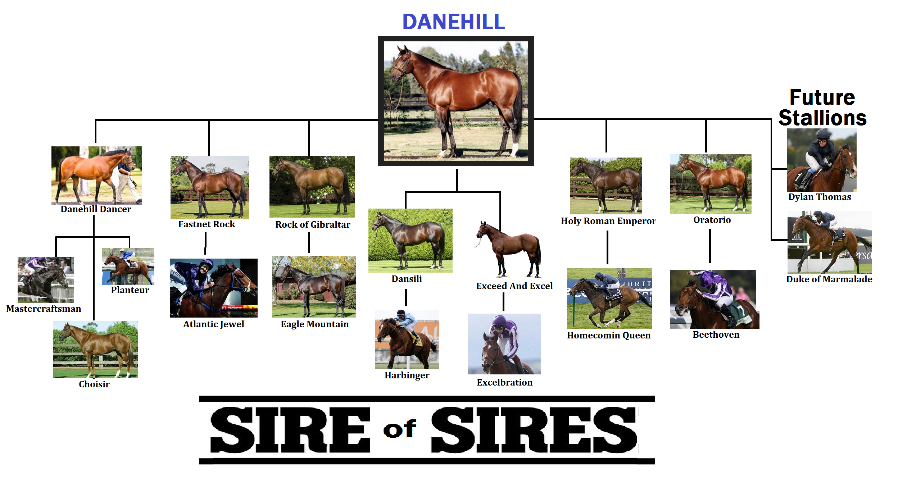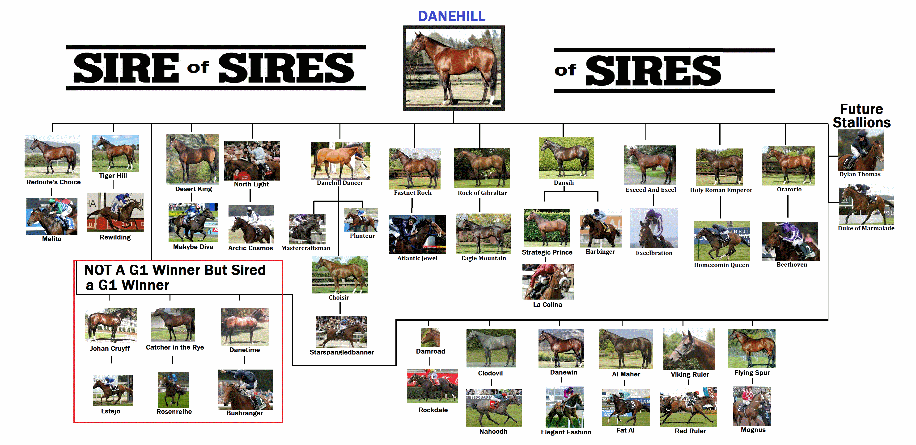 FULL LIST OF DANEHILL PROGENY
Descendant
Colour
Sex
Year
Dam
Sire of Dam
Aamaaq (GB)
bay
gelding
2003
Alabaq (USA)
Riverman (USA)
Abaconian (IRE)
bay
gelding
2003
Double Grange (IRE)
Double Schwartz (IRE)
Abby Road (IRE)
bay
filly
2004
Bells Are Ringing (USA)
Sadler's Wells (USA)
Abide With Me (USA)
bay
colt
2004
Sequoyah (IRE)
Sadler's Wells (USA)
About Town (AUS)
bay
filly
1996
Ballincrea Lady (AUS)
Bletchingly (AUS)
Abraham Lincoln (IRE)
bay
gelding
2004
Moon Drop (GB)
Dominion (GB)
Academy Award (IRE)
bay
colt
2000
Ingabelle (IRE)
Taufan (USA)
Acamar (IRE)
bay
colt
2004
Measure (USA)
Seeking The Gold (USA)
Accentuate (IRE)
bay
gelding
2004
Arcade (GB)
Rousillon (USA)
Account (AUS)
bay
filly
1998
She Can Fly (NZ)
Sir Tristram (IRE)
Ace (IRE)
bay
colt
2001
Tea House (IRE)
Sassafras (FR)
Acid Jazz (USA)
bay
gelding
1998
Shamisen (GB)
Diesis (GB)
Acquittal (IRE)
bay
gelding
1992
Perfect Alibi (IRE)
Law Society (USA)
Acrobat (IRE)
bay
colt
1998
Somfas (USA)
What A Pleasure (USA)
Act Of Parliament (AUS)
bay
gelding
1998
Bracken Bank (NZ)
Sir Tristram (IRE)
Actrice (IRE)
bay
filly
2000
Ange Bleu (USA)
Alleged (USA)
Admiralofthefleet (USA)
bay
colt
2004
Rafina (USA)
Mr Prospector (USA)
Admiral's Lady (AUS)
bay
filly
2001
Moonstruck (FR)
Shirley Heights (GB)
Admire Frank (IRE)
bay
colt
2004
Mayaasa (USA)
Lyphard (USA)
Adora (GER)
grey or roan
filly
1996
Adonara (GER)
Acatenango (GER)
Afraah (AUS)
bay
filly
2001
Crazy for You (USA)
Pleasant Tap (USA)
Air Eminem (IRE)
bay
colt
1998
Kissagram (USA)
Alysheba (USA)
Airman (IRE)
bay
gelding
2003
Jiving (GB)
Generous (IRE)
Air Smap (IRE)
bay
colt
1995
Subtle Change (IRE)
Law Society (USA)
Akhadan (AUS)
bay
colt
1993
Wild West Lass (AUS)
Bletchingly (AUS)
Akshar (IRE)
bay
gelding
1999
Akilara (IRE)
Kahyasi (IRE)
Aladan (GER)
bay
gelding
1996
Alamea (IRE)
Ela-Mana-Mou (IRE)
Al Afreet (AUS)
bay
filly
2003
Drama of Life (USA)
Royal Academy (USA)
Al Anood (AUS)
bay
filly
2003
Eljazzi (IRE)
Artaius (USA)
Alaska Star (IRE)
bay
filly
1994
Misprak (GB)
Akarad (FR)
Albert Einstein (IRE)
bay
colt
2004
Sunset Cafe (IRE)
Red Sunset (IRE)
Albert Hall (GB)
bay
colt
2002
Al Theraab (USA)
Roberto (USA)
Albertinelli (IRE)
bay
gelding
2003
Sunset Cafe (IRE)
Red Sunset (IRE)
Albinor (IRE)
bay
colt
1992
Schwanensee (USA)
Mr. Leader (USA)
Aldo Piccolo (IRE)
bay
gelding
1994
Aztec Princess (IRE)
Indian King (USA)
Alenteja (IRE)
bay
filly
1999
Eljazzi (IRE)
Artaius (USA)
Alessandra Demarco (IRE)
bay
filly
1992
Blue Wedding (USA)
Irish River (FR)
Alethia (IRE)
bay
filly
2003
Greek Moon (IRE)
Shirley Heights (GB)
Alexander Danehill (GER)
bay
colt
1996
Anna-Lucia (GER)
Cortez (GER)
Alexander of Hales (USA)
bay
colt
2004
Legend Maker (IRE)
Sadler's Wells (USA)
Alfayza (GB)
bay
filly
1993
Dahlawise (IRE)
Caerleon (USA)
Algallarens (IRE)
bay
gelding
1998
Al Theraab (USA)
Roberto (USA)
Aliceinwonderland (GB)
bay
filly
2003
Grail (USA)
Quest for Fame (GB)
Al Ihsas (IRE)
bay
filly
1998
Simaat (USA)
Mr Prospector (USA)
Alivera (FR)
bay
filly
2003
Spectacular Joke (USA)
Spectacular Bid (USA)
Alladane (AUS)
bay
filly
1995
Lady Casilda (AUS)
Bletchingly (AUS)
All Time Champion (AUS)
bay
gelding
2003
Accomplished (GB)
Sadler's Wells (USA)
Al Maher (AUS)
bay
colt
2001
Show Dancing (NZ)
Don't Say Halo (USA)
Almazyoon (AUS)
bay
filly
1993
Luv Luiana (USA)
Roberto (USA)
Al Miqdaam (AUS)
bay
colt
2002
St. Clemens Belle (AUS)
Don't Say Halo (USA)
Almost Innocent (IRE)
bay
filly
2002
Puzzled Look (USA)
Gulch (USA)
Almost Ripe (AUS)
bay
filly
2001
Soon Ripe (USA)
Grey Dawn (FR)
Aloha Dancer (IRE)
bay
filly
1995
Spire (GB)
Shirley Heights (GB)
Alqwah (IRE)
bay
filly
2001
Delage (GB)
Bellypha (IRE)
Alriffa (GB)
bay
colt
1991
Sweet Soprano (GB)
High Line (GB)
Alstemeria (IRE)
bay
filly
1999
Teslemi (USA)
Ogygian (USA)
Altius (IRE)
bay
colt
2003
Alleged Devotion (USA)
Alleged (USA)
Always A Star (IRE)
bay
filly
2003
Coralita (IRE)
Night Shift (USA)
Amalia (IRE)
bay
filly
1996
Cheviot Amble (IRE)
Pennine Walk (IRE)
Amalie Bay (IRE)
bay
colt
2001
Al Galop (USA)
Affirmed (USA)
Amalienborg (AUS)
bay
filly
2002
Palatious (AUS)
Semipalatinsk (USA)
Amandus (USA)
bay
gelding
2000
Affection Affirmed (USA)
Affirmed (USA)
Amaranthe (IRE)
bay
filly
1995
Allons Enfants (USA)
Spend A Buck (USA)
Amaranthine (AUS)
bay
filly
2003
Eternal (GB)
Kris (GB)
America's Cup (AUS)
bay
colt
1998
Kiwi Magic (NZ)
Vice Regal (NZ)
Amies (AUS)
bay
filly
2000
L'On Vite (USA)
Secretariat (USA)
Amigoni (IRE)
bay
colt
2003
Elite Guest (IRE)
Be My Guest (USA)
Amon Min (IRE)
bay
gelding
1999
Sarooh's Love (USA)
Nureyev (USA)
Ample Gains (AUS)
bay
colt
2001
Tamarino (IRE)
Caerleon (USA)
Amrak Ajeeb (IRE)
bay
colt
1992
Noble Dust (USA)
Dust Commander (USA)
Amsterdam (IRE)
bay
colt
2002
Dathiyna (IRE)
Kris (GB)
Anatase (GB)
bay
filly
1996
Sharaya (USA)
Youth (USA)
Andilisa (GB)
bay
filly
1999
Chloe Nicole (USA)
Personal Flag (USA)
Andronicusofrhodes (GB)
bay
colt
2003
Charming Life (NZ)
Sir Tristram (IRE)
Angellino (IRE)
bay
colt
1994
Commanche Belle (GB)
Shirley Heights (GB)
Anchiano (AUS)
bay
gelding
1996
Sky Watch (AUS)
Star Watch (AUS)
Anna Rella (IRE)
bay
filly
1991
Princess Arabella (IRE)
Crowned Prince (USA)
Annenkov (IRE)
bay
colt
2002
Agathe (USA)
Manila (USA)
Annie Girl (IRE)
bay
filly
1992
Noblanna (USA)
Vaguely Noble (IRE)
Announcing Peace (GB)
bay
filly
1995
Remoosh (GB)
Glint Of Gold (GB)
Another Fantasy (IRE)
bay
filly
1995
Ariadne (GB)
Bustino (GB)
Antilles (IRE)
bay
filly
1991
Aces Full (USA)
Round Table (USA)
Antranig (IRE)
bay
colt
1999
Avigail (USA)
Miswaki (USA)
Any Dane Now (AUS)
bay
filly
2001
Kenbelle (AUS)
Kenmare (FR)
Anyname (IRE)
bay
colt
2002
Anysheba (USA)
Alysheba (USA)
Apache Arrow (IRE)
bay
colt
2003
Sweet Retreat (GB)
Indian Ridge (IRE)
Apologia (AUS)
bay
colt
2002
Foxwood (NZ)
Centaine (AUS)
Apple Danish (AUS)
bay
filly
1993
Classic Style (IRE)
Thatching (IRE)
Aqua D'Amore (AUS)
bay
filly
2001
Romantic River (USA)
Irish River (FR)
Aquadane (AUS)
bay
colt
1999
Rowa (GB)
Great Nephew (GB)
Aquarelliste (FR)
bay
filly
1998
Agathe (USA)
Manila (USA)
Aquiver (AUS)
bay
gelding
1996
Excited Angel (AUS)
Don't Say Halo (USA)
Ardana (IRE)
bay
filly
1991
Arriance (FR)
Gay Mecene (USA)
A Regal Dane (AUS)
grey
gelding
1994
Jemador (AUS)
No Mercy (GB)
Arena (AUS)
bay
colt
1995
Lee's Bid (NZ)
Tawfiq (USA)
Arhaaff (IRE)
bay
filly
1998
Mosaique Bleue (GB)
Shirley Heights (GB)
Archange d'Or (IRE)
bay
colt
2002
Dievotchka (GB)
Dancing Brave (USA)
Ario (IRE)
bay
gelding
1999
Aisla (USA)
Miswaki (USA)
Aristocracy (AUS)
bay
filly
2002
Antelliere (AUS)
Salieri (USA)
Arizona Princess (IRE)
bay
filly
2002
Alpine Symphony (IRE)
Northern Dancer (CAN)
Arkadina (IRE)
bay
filly
2004
Cumbres (FR)
Kahyasi (IRE)
Arlington Road (AUS)
bay
gelding
1998
Joie De Vivre (AUS)
Vain (AUS)
Around (GB)
bay
filly
2003
Roupala (USA)
Vaguely Noble (IRE)
Arriva Dane (AUS)
bay
filly
2002
Riverly (USA)
Lyphard (USA)
Art Dealer (IRE)
bay
colt
1998
Allons Enfants (USA)
Spend A Buck (USA)
Artel (AUS)
bay
filly
1999
Beaux Art (AUS)
Nomrood (USA)
Artful Dane (IRE)
bay
colt
1992
Art Age (IRE)
Artaius (USA)
Artiste Royal (IRE)
bay
colt
2001
Agathe (USA)
Manila (USA)
Asakusa Gorogoro (JPN)
bay
colt
1997
Nihon Pillow Graf (JPN)
Bravest Roman (USA)
Ashraf (AUS)
bay
gelding
2002
Dis La (USA)
Diesis (GB)
Asia (AUS)
brown
filly
1997
English Wonder (AUS)
Twig Moss (FR)
Asia Star (AUS)
bay
colt
1998
Sisterhood (AUS)
Godswalk (USA)
Ask Annie (IRE)
bay
filly
2001
Anima (GB)
Ajdal (USA)
Asley (IRE)
bay
colt
1996
Ausherra (USA)
Diesis (GB)
Assafa (AUS)
bay
colt
2001
Marigot Bay (IRE)
Fairy King (USA)
Assertiveness (AUS)
bay
filly
1999
Sommes Sound (USA)
Assert (IRE)
Asset Swop (AUS)
bay
gelding
1996
Mashenka (GB)
Nashwan (USA)
Aster (IRE)
bay
filly
1999
Abashed (GB)
Fairy King (USA)
Astig (AUS)
bay
colt
1995
Paraluman (AUS)
Showdown (GB)
Astradane (IRE)
bay
filly
1991
Astra Adastra (IRE)
Mount Hagen (FR)
Astral Sylph (JPN)
bay
filly
1997
Mistress Rolfe (USA)
Tom Rolfe (USA)
Atalante (JPN)
bay
filly
2004
Jungle Moon (IRE)
Sadler's Wells (USA)
Ataraxia (JPN)
bay
colt
1997
Lambada Style (IRE)
Dancing Brave (USA)
A Thousand Stars (IRE)
bay
filly
2000
Mythical Creek (USA)
Pleasant Tap (USA)
Atlantic Viking (IRE)
bay
gelding
1995
Hi Bettina (IRE)
Henbit (USA)
Attachee de Presse (IRE)
bay
filly
2000
Allons Enfants (USA)
Spend A Buck (USA)
Auburn Hills (AUS)
brown
filly
2002
Gee O'Cee (USA)
Seattle Slew (USA)
Aubusson (NZ)
grey
gelding
1991
St. Bridget's Well (NZ)
Three Legs (GB)
Aucash (AUS)
bay
colt
1997
All Grace (NZ)
Sir Tristram (IRE)
Augustus John (IRE)
grey
gelding
2003
Rizerie (FR)
Highest Honor (FR)
Aureum (AUS)
bay
gelding
2001
Blue Storm (AUS)
Bluebird (USA)
Aussie Rules (USA)
grey or roan
colt
2003
Last Second (IRE)
Alzao (USA)
Authoritarian (AUS)
brown
gelding
1993
La Flic Du Roi (USA)
Policeman (FR)
Ayaam (IRE)
bay
filly
2001
Dangerous Diva (IRE)
Royal Academy (USA)
Azarouak (IRE)
dark bay
gelding
2001
My Potters (USA)
Irish River (FR)
Azra (IRE)
bay
filly
1994
Easy To Please (IRE)
What A Guest (IRE)
Baby Man (USA)
bay
gelding
1999
Merry Festival (USA)
Private Account (USA)
Bacchereto (IRE)
bay
colt
1994
Berbera (IRE)
Tierceron (ITY)
Bakke (GB)
bay
gelding
2002
Valagalore (GB)
Generous (IRE)
Balestrini (IRE)
bay
colt
2000
Welsh Love (IRE)
Ela-Mana-Mou (IRE)
Baltic Beauty (AUS)
bay
filly
1992
Lansarah (NZ)
Imposing (AUS)
Baltimore (AUS)
bay
colt
2002
Star Quality (IRE)
Caerleon (USA)
Bandam Haruno O (JPN)
bay
colt
1997
Honey Doll (JPN)
Bravest Roman (USA)
Bandam Heart (IRE)
bay
colt
1996
Berhala (IRE)
Doyoun (IRE)
Bangaroo (AUS)
bay
gelding
1998
Farrara (IRE)
Fast Topaze (USA)
Banks Hill (GB)
bay
filly
1998
Hasili (IRE)
Kahyasi (IRE)
Banner Headline (AUS)
bay
gelding
1993
Daily Despatch (NZ)
Grey Dawn (FR)
Ban Tosho (JPN)
bay
filly
1997
Hug Me Tosho (JPN)
Northern Dictator (USA)
Baraka (IRE)
bay
filly
2001
Cocotte (GB)
Troy (GB)
Barlagarney (AUS)
bay
gelding
2003
Sorb Apple (IRE)
Kris (GB)
Barolo (GB)
bay
gelding
1999
Lydia Maria (GB)
Dancing Brave (USA)
Barouche (GB)
bay
gelding
2001
Barbarella (GB)
Bering (GB)
Barrett (AUS)
bay
gelding
1991
Toltrice (AUS)
Matrice (AUS)
Barsine (IRE)
bay
filly
1999
Al Theraab (USA)
Roberto (USA)
Basamaat (IRE)
bay
filly
2003
Shining Hour (USA)
Red Ransom (USA)
Battle Chase (JPN)
dark bay
colt
1997
Showa Glory (JPN)
Horisky (JPN)
Baydur (IRE)
bay
gelding
1991
Sutton Place (GB)
Tyrant (USA)
Bearcat (AUS)
bay
colt
1999
Fitting (AUS)
Marscay (AUS)
Beaumont Forrest (AUS)
bay
gelding
1995
Swallow's Song (USA)
Vaguely Noble (IRE)
Beautiful Hill (IRE)
grey
filly
2000
Beautiful France (IRE)
Sadler's Wells (USA)
Beauty Bright (IRE)
bay
filly
2003
Dietrich (USA)
Storm Cat (USA)
Beauty Song (JPN)
bay
filly
1997
Max Jolly (JPN)
Real Shadai (USA)
Beau Vengerov (IRE)
bay
colt
2004
Arpege (IRE)
Sadler's Wells (USA)
Beffy (AUS)
bay
filly
2000
Mantles Princess (GB)
Rock City (IRE)
Bel Danoro (AUS)
bay
colt
2002
Bislotto (AUS)
Bellotto (USA)
Believe in You (JPN)
bay
filly
1997
Iconoclaste (FR)
New Chapter (GB)
Belladane (AUS)
bay
filly
1996
Altesse de Loir (USA)
Vaguely Noble (IRE)
Bella Stella (AUS)
bay
filly
2000
Stella Cadente (AUS)
Centaine (AUS)
Belleville (IRE)
bay
filly
1998
Porte des Iles (IRE)
Kris (GB)
Bellhouse (AUS)
bay
filly
1999
Mer Belle (USA)
Far North (CAN)
Bells Will Ring (IRE)
bay
filly
2001
Termania (IRE)
Shirley Heights (GB)
Beluga (AUS)
bay
filly
2000
Astute Angel (AUS)
Godswalk (USA)
Be My Dane (AUS)
grey
gelding
1994
Velvet Rocket (AUS)
Plush (NZ)
Bendis (GER)
bay
filly
1999
Berenice (GB)
Groom Dancer (USA)
Bene Hill (IRE)
bay
colt
2001
Silver Bubble (USA)
Silver Hawk (USA)
Benger Boy (JPN)
bay
colt
1997
Anyika (USA)
Alydar (USA)
Benjamin Franklin (IRE)
bay
colt
2003
Adjalisa (IRE)
Darshaan (GB)
Benson (AUS)
bay
gelding
2002
Lake Alexandrina (AUS)
Bluebird (USA)
Berlin (AUS)
bay
filly
1996
Burletta (NZ)
Three Legs (GB)
Bermuda Grass (IRE)
bay
colt
1998
Alleluia Tree (IRE)
Royal Academy (USA)
Beseech (IRE)
bay
filly
2004
Francfurter (GB)
Legend of France (USA)
Best Be Going (IRE)
bay
gelding
2000
Bye Bold Aileen (IRE)
Warning (GB)
Best Buy (IRE)
dark bay
filly
1998
Cairn Rouge (IRE)
Pitcairn (IRE)
Best Gain (IRE)
bay
colt
1996
Karawasha (IRE)
Doyoun (IRE)
Big Al Hazim (IRE)
bay
gelding
2003
Dathiyna (IRE)
Kris (GB)
Big Eared Fran (IRE)
grey
gelding
2003
Zarawa (IRE)
Kahyasi (IRE)
Big Grade (JPN)
bay
colt
1997
Kitano Ogojo (JPN)
Tosho Boy (JPN)
Big Jesse (AUS)
bay
colt
1999
Theme Song (NZ)
Sackford (USA)
Billet (IRE)
bay
filly
2002
Tathkara (USA)
Alydar (USA)
Billy The Kid (IRE)
bay
gelding
1998
Bleu Cerise (GB)
Sadler's Wells (USA)
Biriyani (IRE)
bay
filly
2002
Breyani (IRE)
Commanche Run (GB)
Birkin (GB)
bay
filly
2002
Supamova (USA)
Seattle Slew (USA)
Bishop Garden (IRE)
bay
colt
2003
Emmaline (USA)
Affirmed (USA)
Blackfriars (AUS)
bay
colt
1996
Kensington Gardens (NZ)
Grosvenor (NZ)
Blisland (GB)
bay
colt
1992
Busca (USA)
Mr Prospector (USA)
Blondane (GB)
bay
gelding
1993
Whos the Blonde (GB)
Cure the Blues (USA)
Blondine (AUS)
bay
filly
1994
Biancaneve (AUS)
Salieri (USA)
Blowin In The Wind (IRE)
bay
filly
2004
Ho Hi The Moon (IRE)
Be My Guest (USA)
Blue Becky (AUS)
bay
filly
1998
Ladybird Blue (AUS)
Bluebird (USA)
Bluebird Hill (AUS)
bay
filly
1997
Jolly (NZ)
Sir Tristram (IRE)
Bluegrass Hill (IRE)
dark bay
gelding
2004
Paquita (IRE)
Sadler's Wells (USA)
Blue Pharaoh (AUS)
bay
gelding
1995
Lady Jakeo (AUS)
Last Tycoon (IRE)
Blue Skimmer (NZ)
bay
gelding
2003
Paint Me a Dream (USA)
Deputy Minister (CAN)
Blushing Dane (AUS)
bay
gelding
2000
Nanshan (IRE)
Nashwan (USA)
Blushing Name (USA)
bay
colt
1998
Blushing Gleam (GB)
Caerleon (USA)
Blu Valentine (IRE)
bay
filly
1999
Tinte Blu (IRE)
The Noble Player (USA)
Bodacious Harmony (AUS)
bay
filly
2002
La Volta (AUS)
Laranto (AUS)
Bog's Hill (IRE)
bay
colt
1996
Bogus (USA)
Nijinsky (CAN)
Bojangles (IRE)
bay
gelding
1999
Itching (IRE)
Thatching (IRE)
Bold Expectation (AUS)
bay
colt
1998
Miss Bold Appeal (USA)
Valid Appeal (USA)
Bolshevik (AUS)
bay
gelding
1995
Classy Tricks (AUS)
Dash o' Pleasure (USA)
Bona Dea (IRE)
bay
filly
2000
Sweet Justice (IRE)
Law Society (USA)
Bonanza (IRE)
bay
gelding
2002
Mosquera (GER)
Acatenango (GER)
Bonasera (AUS)
bay
filly
2001
Bonanova (NZ)
Star Way (GB)
Bondi Iceberg (AUS)
bay
gelding
1996
Cioccolanio (USA)
Fappiano (USA)
Bootleg (AUS)
bay or brown
colt
1996
Tennessee Mist (AUS)
Bletchingly (AUS)
Borghesi (IRE)
bay
filly
1999
Karri Valley (USA)
Storm Bird (CAN)
Born For Glory (NZ)
bay
filly
2003
Annie Daly (IRE)
Spinning World (USA)
Bouvier (AUS)
bay
filly
1995
Daily Despatch (NZ)
Grey Dawn (FR)
Brackenbury (AUS)
bay
colt
1992
Jullene (NZ)
Sir Tristram (IRE)
Bradman (AUS)
grey
gelding
1994
Snow Leopard (AUS)
Sharp Edge (IRE)
Brandy Butter (AUS)
bay
filly
1996
Christmas Spirit (AUS)
Bletchingly (AUS)
Brave Dane (IRE)
bay
gelding
1998
Nuriva (USA)
Woodman (USA)
Brave Heights (AUS)
bay
filly
1998
Bykova (AUS)
Star Way (GB)
Breaktime (JPN)
bay
colt
1997
Homareno Princess (JPN)
Prince of Birds (USA)
Breeze Hill (IRE)
bay
filly
2000
Rose of Jericho (USA)
Alleged (USA)
Brideshead (IRE)
bay
colt
2003
Kanmary (FR)
Kenmare (FR)
Bright And Clear (GB)
bay
filly
1999
Shining Water (GB)
Kalaglow (IRE)
Bright Hope (IRE)
bay
filly
1996
Crystal Cross (USA)
Roberto (USA)
Brilliant Dane (AUS)
bay
gelding
1995
Brilliantdeduction (USA)
Capote (USA)
Brilliant Leader (AUS)
bay
colt
1995
Seascape (GB)
Shirley Heights (GB)
Brimming (NZ)
bay
filly
2000
Tearrunner (USA)
Skywalker (USA)
Bringing Joy (AUS)
grey
filly
1998
Young And Free (AUS)
Kenmare (FR)
Brisanna (AUS)
bay
filly
1998
Brise de Mer (USA)
Bering (GB)
Brisk Star (GB)
bay
colt
1996
Charmante (USA)
Alydar (USA)
Britt's Best (NZ)
bay
colt
1998
Bal des Sirenes (IRE)
Warning (GB)
Brown Eyes (GB)
bay
filly
1999
La Belle Otero (USA)
Nureyev (USA)
Bukhoor (IRE)
bay
filly
2001
Touch of Magic (IRE)
Brief Truce (USA)
Bullish General (AUS)
bay
gelding
2000
Chinese Justice (USA)
Diesis (GB)
Bullish Master (AUS)
bay
gelding
2002
Torrential Storm (NZ)
Sir Tristram (IRE)
Bull Market (IRE)
bay
gelding
2003
Paper Moon (IRE)
Lake Coniston (IRE)
Bullmore (AUS)
bay
colt
2002
Strawberry Girl (USA)
Strawberry Road (AUS)
Burmese Sapphire (IRE)
bay
filly
2002
Sunny Flower (FR)
Dom Racine (FR)
Burning Delight (AUS)
bay
filly
1993
Flaming Joy (USA)
Daryl's Joy (NZ)
Burst Two (AUS)
bay
filly
1997
Burst (AUS)
Marauding (NZ)
Burundi (IRE)
bay
gelding
1994
Sofala (GB)
Home Guard (USA)
Bustling (GB)
bay
filly
1999
Carnival Spirit (GB)
Kris (GB)
Buzzi (IRE)
bay
gelding
1996
Bevola (ITY)
Marracci (GB)
Bywayofthestars (GB)
bay
filly
2001
Solo de Lune (IRE)
Law Society (USA)
Cabourg (IRE)
bay
gelding
2003
Loire Valley (IRE)
Sadler's Wells (USA)
Cacciadiavoli (IRE)
bay
filly
2003
Center Moriches (IRE)
Magical Wonder (USA)
Cacique (IRE)
dark bay
colt
2001
Hasili (IRE)
Kahyasi (IRE)
Caesarion (IRE)
bay
colt
1999
Carelaine (USA)
Woodman (USA)
Cailin Ciarrai (IRE)
bay
filly
1995
Whitecairn (GB)
Sure Blade (USA)
California Bay (AUS)
bay
gelding
2002
Tremone Bay (AUS)
Last Tycoon (IRE)
California Dane (AUS)
bay
colt
2002
Storminwinter (USA)
Seattle Slew (USA)
Calypso Grant (IRE)
bay
filly
1994
Why So Silent (GB)
Mill Reef (USA)
Camacho (GB)
bay
colt
2002
Arabesque (GB)
Zafonic (USA)
Camarena (NZ)
bay
filly
1995
Canny Miss (AUS)
Marscay (AUS)
Camaret (IRE)
bay
filly
1999
Armorique (IRE)
Top Ville (IRE)
Cambrian Dawn (GB)
bay
gelding
1994
Welsh Daylight (GB)
Welsh Pageant (FR)
Canary Cottage (IRE)
bay
filly
2000
Reunion (IRE)
Be My Guest (USA)
Candane (GB)
bay
filly
1991
American Beauty (GB)
Mill Reef (USA)
Canterbury Lace (USA)
bay
filly
2001
Legend Maker (IRE)
Sadler's Wells (USA)
Canyon Messiah (JPN)
bay
colt
1997
In Full View (USA)
Full Out (USA)
Cape Jasmine (IRE)
bay
filly
2004
Oumaldaaya (USA)
Nureyev (USA)
Captain Cook (JPN)
bay
colt
1997
Once Wed (USA)
Blushing Groom (FR)
Captain Jacksparra (IRE)
bay
gelding
2004
Push a Venture (GB)
Shirley Heights (GB)
Captain Phillip (AUS)
bay
gelding
2001
Settlers Cove (AUS)
Luskin Star (AUS)
Caqui d'Or (IRE)
bay
gelding
1998
Ghaiya (USA)
Alleged (USA)
Carahill (AUS)
bay
filly
1999
Balmacara (NZ)
Bassenthwaite (GB)
Carambola (IRE)
bay
filly
1996
Purchasepaperchase (GB)
Young Generation (IRE)
Carnegie Hall (IRE)
bay
colt
2002
Bolshaya (GB)
Cadeaux Genereux (GB)
Carnival Moon (IRE)
bay
colt
2003
Dearest (USA)
Riverman (USA)
Carrowdore (IRE)
bay
colt
2000
Euromill (IRE)
Shirley Heights (GB)
Cashier (AUS)
bay or brown
filly
1993
Dancing Dollar (AUS)
Vain (AUS)
Cassiopeia Lady (JPN)
dark bay
filly
1997
Takeno Falcon (JPN)
Philip of Spain (GB)
Cassis (AUS)
bay
filly
1999
Porte des Iles (IRE)
Kris (GB)
Castara Beach (IRE)
bay
filly
1996
Sea Harrier (GB)
Grundy (IRE)
Castellane (FR)
bay
filly
1995
Servia (GB)
Le Marmot (FR)
Catalan Hill (IRE)
bay
filly
2002
Catalonia Express (GB)
Diesis (GB)
Catbird (AUS)
bay
colt
1996
Fitting (AUS)
Marscay (AUS)
Caterina (AUS)
bay
filly
1992
Marks Gain (AUS)
Biscay (AUS)
Catcher In The Rye (IRE)
bay
colt
2000
Truly a Dream (IRE)
Darshaan (GB)
Catching Moonbeams (IRE)
bay
filly
2003
Imperial Beauty (USA)
Imperial Ballet (IRE)
Caught Courting (NZ)
bay
colt
1999
Let's Elope (NZ)
Nassipour (USA)
Cayambe (AUS)
bay
filly
2002
Laurel Grove (AUS)
Bluebird (USA)
Cazadero (IRE)
bay
colt
1992
Clonsella Lady (GB)
High Top (IRE)
Celadon (NZ)
bay
filly
2000
Crimson (NZ)
Zabeel (NZ)
Celtic Cat (IRE)
bay
colt
2001
Golden Cat (USA)
Storm Cat (USA)
Celtic Craft (USA)
bay
filly
1999
Crissy Aya (USA)
Saros (GB)
Celtic Dane (AUS)
bay
gelding
1998
Moving Soon (AUS)
Whiskey Road (USA)
Central West (AUS)
bay
colt
1996
Daily Despatch (NZ)
Grey Dawn (FR)
Centreofattention (AUS)
bay
filly
2002
L'On Vite (USA)
Secretariat (USA)
Certain Flair (GB)
bay
filly
1991
Welsh Daylight (GB)
Welsh Pageant (FR)
Cinquante Cinq (IRE)
bay
filly
2004
Castilian Queen (USA)
Diesis (GB)
Circular (AUS)
bay
gelding
1994
M Twenty Five (GB)
Jalmood (USA)
Cirque Du Soleil (AUS)
bay
filly
1999
Piccadilly Circus (AUS)
Royal Academy (USA)
Civics (AUS)
bay
colt
1999
Dosthill (USA)
Diesis (GB)
Clan Law (IRE)
bay
gelding
1998
My-O-My (IRE)
Waajib (IRE)
Claradane (IRE)
bay
filly
1991
Claretta (USA)
Roberto (USA)
Classic Dane (AUS)
bay
gelding
1996
Classic Style (IRE)
Thatching (IRE)
Classira (IRE)
bay
filly
2004
Alleged Devotion (USA)
Alleged (USA)
Clear Impression (IRE)
bay
filly
2002
Shining Hour (USA)
Red Ransom (USA)
Clever Cliche (GB)
bay
colt
1993
Beacon Hill (GB)
Bustino (GB)
Click-On (IRE)
bay
colt
1998
Bold Flawless (USA)
Bold Bidder (USA)
Clockwork (IRE)
bay
colt
2002
Coralita (IRE)
Night Shift (USA)
Clodovil (IRE)
grey
colt
2000
Clodora (FR)
Linamix (FR)
Close Regards (IRE)
bay
filly
2001
La Luna (USA)
Lyphard (USA)
Clothilde (AUS)
bay
filly
1998
Seika (AUS)
Canny Lad (AUS)
Clouded Leopard (USA)
bay
filly
2004
Golden Cat (USA)
Storm Cat (USA)
Cloud Hill (GB)
bay
filly
1999
Cruising Height (IRE)
Shirley Heights (GB)
Clover Hill (IRE)
bay
gelding
1999
Switch Blade (IRE)
Robellino (USA)
Coachella (GB)
bay
filly
2000
Vallee des Reves (USA)
Kingmambo (USA)
Coconut (AUS)
bay
filly
1994
Palm Tree (NZ)
Pompeii Court (USA)
Code (IRE)
bay
gelding
2001
Hidden Meaning (USA)
Gulch (USA)
Colloq (IRE)
bay
colt
1998
Reliable (USA)
Danzig Connection (USA)
Colossus (IRE)
bay
colt
2001
Mira Adonde (USA)
Sharpen Up (GB)
Comet (AUS)
bay
colt
1998
Star of Light (AUS)
Star Watch (AUS)
Come Undone (AUS)
bay
gelding
2002
Countess Christie (AUS)
Marscay (AUS)
Commands (AUS)
bay
colt
1996
Cotehele House (GB)
My Swanee (GB)
Companion (IRE)
bay
colt
1998
Sedra (IRE)
Nebbiolo (GB)
Complimentary Pass (GB)
bay
filly
1996
Capo Di Monte (IRE)
Final Straw (GB)
Compulsion (AUS)
bay
filly
1995
Bold Promise (AUS)
Luskin Star (AUS)
Compulsory (AUS)
bay
gelding
1991
Texan Lass (FR)
Carvin (FR)
Conatus (AUS)
bay
colt
1999
Light Up the World (AUS)
Rory's Jester (AUS)
Concubine (IRE)
bay
filly
1999
Bye Bold Aileen (IRE)
Warning (GB)
Confer (AUS)
bay
filly
1995
Shackle (AUS)
Luskin Star (AUS)
Connecticut (AUS)
bay
colt
2001
Milva (USA)
Strawberry Road (AUS)
Conte Partiro (AUS)
bay
filly
1997
Freeway Daisy (USA)
Gone West (USA)
Coolaba Princess (IRE)
grey
filly
1992
Patchwork (USA)
Diesis (GB)
Copeton (AUS)
bay
gelding
2000
Audimco (AUS)
Marscay (AUS)
Cope With Reality (IRE)
bay
colt
1993
Reality (GB)
Known Fact (USA)
Copybook (GB)
bay
gelding
1999
Easy To Copy (USA)
Affirmed (USA)
Corazon (IRE)
bay
filly
1996
Cordielera (GB)
Elegant Air (GB)
Cornwall (IRE)
bay
colt
2001
Saviour (USA)
Majestic Light (USA)
Cosmo Marscay (AUS)
bay
colt
1999
Heart Ruler (NZ)
Marscay (AUS)
Costume (GB)
bay
filly
2004
Dance Dress (USA)
Nureyev (USA)
Counterblast (AUS)
bay
filly
1997
Sudden (AUS)
Boucher (USA)
Count of Anjou (UAE)
bay
colt
2001
Melisendra (FR)
Highest Honor (FR)
Country Boy (AUS)
bay
gelding
1999
Tremone Bay (AUS)
Last Tycoon (IRE)
Count Trevisio (IRE)
bay
gelding
2003
Stylish (GB)
Anshan (GB)
Court Of Jewels (NZ)
bay
colt
1997
Nine Carat (NZ)
Sir Tristram (IRE)
Cousins (AUS)
bay
filly
1993
Kincay (AUS)
Marscay (AUS)
Coy (IRE)
bay
filly
2001
Demure (GB)
Machiavellian (USA)
Crad (IRE)
grey
colt
1993
Croda Alta (GB)
Caro (IRE)
Craft Fair (IRE)
bay
gelding
2002
Brush Strokes (GB)
Cadeaux Genereux (GB)
Crazy 'Bout You (AUS)
bay
filly
1993
Ambassador Club (AUS)
Ubetido (AUS)
Crazy Paving (IRE)
bay
gelding
1991
Clunk Click (GB)
Star Appeal (IRE)
Creepshow (FR)
bay
colt
1993
Servia (GB)
Le Marmot (FR)
Crenellation (IRE)
bay
colt
1999
Contare (GB)
Shirley Heights (GB)
Crevette (AUS)
brown
filly
2002
Twiglet (AUS)
Twig Moss (FR)
Crimson Lane (AUS)
bay
filly
2000
Crimson Road (USA)
Strawberry Road (AUS)
Crique (AUS)
bay
gelding
2002
Kanaka Creek (USA)
Thunder Gulch (USA)
Critical List (AUS)
bay
colt
2000
Verocative (AUS)
Bletchingly (AUS)
Croatian Hill (AUS)
bay
colt
1994
Preciosura (ARG)
Laramie Trail (USA)
Crowned Glory (AUS)
bay
filly
1997
Significant Moment (AUS)
Bletchingly (AUS)
Crums (AUS)
bay
gelding
2001
Champagne (NZ)
Zabeel (NZ)
Crystal (IRE)
bay
filly
2001
Solar Crystal (IRE)
Alzao (USA)
Crystal Hill (AUS)
bay
filly
1998
Crystal Palace (NZ)
Palace Music (USA)
Crystal Hill (GER)
bay
colt
1996
Crystal Fire (GER)
Efisio (GB)
Crystal Charm (IRE)
grey
filly
1996
Chamonis (USA)
Affirmed (USA)
Crystalina (IRE)
bay
filly
2001
Northern Script (USA)
Arts And Letters (USA)
Crystal Valkyrie (IRE)
bay
filly
1999
Crystal Cross (USA)
Roberto (USA)
Cullen (AUS)
bay
colt
1996
Princess Tracy (IRE)
Ahonoora (GB)
Culturalrevolution (AUS)
bay
filly
2002
Chinese Justice (USA)
Diesis (GB)
Cuphill (AUS)
bay
filly
1999
Loving Cup (AUS)
Bluebird (USA)
Dagmar (AUS)
bay
filly
2002
Techniques (AUS)
Palace Music (USA)
Dahara (AUS)
bay
filly
2000
Striking Destiny (USA)
El Prado (IRE)
Dainty Deb (AUS)
bay
filly
1999
Peggy Ann (NZ)
Bletchingly (AUS)
Daisy Bates (IRE)
bay
filly
1993
Martha Stevens (USA)
Super Concorde (USA)
Daisy Do (IRE)
bay
filly
2000
Lothlorien (USA)
Woodman (USA)
Daiwa Vatican (JPN)
bay
colt
1997
Higashi Brian (JPN)
Brian's Time (USA)
Da-Man (AUS)
bay
gelding
1995
Satin Sand (AUS)
Buena Shore (USA)
Dame Again (AUS)
grey or roan
filly
1998
Damana (FR)
Crystal Palace (FR)
Dame Matico (AUS)
bay
filly
2002
Mattiocco (IRE)
Last Tycoon (IRE)
Damemill (IRE)
bay
filly
1992
Aladja (GB)
Mill Reef (USA)
Damowin (AUS)
bay
filly
1998
Orwhina (AUS)
Vain (AUS)
Danabala (AUS)
bay
gelding
1992
Perfect Miss (AUS)
Vain (AUS)
Danadevi (AUS)
bay
filly
1996
Very Droll (AUS)
Crown Jester (AUS)
Danahill Lad (USA)
bay
colt
2001
Carmen Trial (USA)
Skip Trial (USA)
Danachenka (AUS)
bay
colt
1997
Mashenka (GB)
Nashwan (USA)
Danajaya (AUS)
bay
colt
1994
Bianca Lancia (FR)
Mill Reef (USA)
Danajiva (AUS)
bay
gelding
1995
Roadsong (AUS)
Haulpak (AUS)
Danalaga (AUS)
bay
filly
2000
Tamarino (IRE)
Caerleon (USA)
Danalia (IRE)
bay
filly
1992
Much Pleasure (GB)
Morston (FR)
Danallene (AUS)
bay
gelding
1997
Jullene (NZ)
Sir Tristram (IRE)
Danamala (GB)
bay
filly
1996
Carmelized (CAN)
Key To The Mint (USA)
Danamani (AUS)
bay
filly
1995
Comely Lass (AUS)
Comeram (FR)
Danamuru (AUS)
bay
gelding
1997
Fleet Marguerite (USA)
Gulch (USA)
Danapac (AUS)
bay
gelding
1993
Narrung's Pride (AUS)
Authentic Heir (AUS)
Danapali (IRE)
bay
filly
2004
Taking Liberties (IRE)
Royal Academy (USA)
Danaqua (AUS)
bay
colt
2001
Water Sprite (CAN)
Secretariat (USA)
Danarama (AUS)
bay
gelding
1994
Campbell Fever (AUS)
Bluebird (USA)
Danarani (AUS)
bay
filly
1991
Vaguely Modest (CAN)
Vaguely Noble (IRE)
Danari (AUS)
bay
filly
1995
Espiare (NZ)
Licorice Stick (AUS)
Danaria (AUS)
bay
filly
1999
Tarasova (NZ)
Sir Tristram (IRE)
Danarich (AUS)
bay
filly
1996
Rich Haul (AUS)
Haulpak (AUS)
Danaselvam (AUS)
bay
filly
1995
Assentia (IRE)
Double Form (IRE)
Danasia (AUS)
bay
filly
1997
Lady Of Persia (USA)
Persian Bold (IRE)
Danasierra (AUS)
bay
filly
2002
Red Express (AUS)
Sovereign Red (NZ)
Danasinga (AUS)
bay
colt
1991
Princess Tracy (IRE)
Ahonoora (GB)
Danaskaya (IRE)
grey
filly
2000
Majinskaya (FR)
Marignan (USA)
Danasri (NZ)
bay
gelding
2000
Turquoise Sea (USA)
Shirley Heights (GB)
Danasuria (AUS)
bay
colt
1994
Amarissa (IRE)
Alydar (USA)
Danavanti (AUS)
bay
colt
1993
Dandy Bury (FR)
Exbury (FR)
Danavia (AUS)
bay
filly
2000
Scandinavia (AUS)
Snippets (AUS)
Danaware (AUS)
bay
gelding
1991
Out Of Danger (AUS)
Atilla (GB)
Danawira (AUS)
bay
gelding
1994
Regal Vacation (AUS)
Imperial Prince (IRE)
Danbird (AUS)
bay
colt
2000
Fitting (AUS)
Marscay (AUS)
Danboss (AUS)
bay
gelding
2000
Hayizah (USA)
Woodman (USA)
Dance Control (AUS)
bay
gelding
1993
Ever Graceful (AUS)
Century (AUS)
Dance Music (AUS)
bay
gelding
1993
Ducky Daddle (USA)
Quack (USA)
Dancesteps (NZ)
bay
filly
2002
Cannyanna (AUS)
Canny Lad (AUS)
Dancing Shoes (IRE)
bay
filly
2000
Emmaline (USA)
Affirmed (USA)
Dancing To Win (AUS)
bay
filly
2002
Coco Cobanna (NZ)
Casual Lies (USA)
Danday (AUS)
bay
gelding
1994
Holiday Spirit (AUS)
Abdicating (USA)
Dandify (AUS)
bay
filly
1997
Mannerism (AUS)
Amyntor (FR)
Dandrina (AUS)
bay
filly
2001
Lake Alexandrina (AUS)
Bluebird (USA)
Dandy Dane (USA)
bay
gelding
2000
Flame Violet (IRE)
Fairy King (USA)
Dandy Dane (IRE)
bay
gelding
1998
Rose Bonbon (FR)
High Top (IRE)
Dane Again (AUS)
bay
colt
2000
Only a Lady (AUS)
Sir Tristram (IRE)
Dane Almond (AUS)
bay
colt
2000
Sea Almond (USA)
Nureyev (USA)
Danebank (IRE)
bay
gelding
2000
Snow Bank (IRE)
Law Society (USA)
Danebeam (AUS)
bay
filly
1998
Slight Chance (NZ)
Centaine (AUS)
Danebird (AUS)
bay
gelding
1994
Tibetan Belle (NZ)
Khairpour (IRE)
Dane Borogh (AUS)
bay
colt
1998
Kingston Red (AUS)
Kingston Rule (USA)
Dane Bridge (AUS)
bay
colt
1996
Red Express (AUS)
Sovereign Red (NZ)
Danebury Hill (GB)
bay
colt
2004
Mackie (USA)
Summer Squall (USA)
Dane Cielo (IRE)
bay
gelding
2000
Victoress (USA)
Conquistador Cielo (USA)
Dane Dancer (AUS)
bay
filly
1999
Dancing Show (USA)
Nijinsky (CAN)
Dane Dancing (IRE)
bay
filly
1998
My Ballerina (USA)
Sir Ivor (USA)
Dane De Vivre (NZ)
bay
gelding
2000
Joie de Vivre (IRE)
Be My Guest (USA)
Dane Display (AUS)
bay
gelding
2001
Grasmere (IRE)
Thatching (IRE)
Danedrop (IRE)
bay
filly
1999
Rose Bonbon (FR)
High Top (IRE)
Dane Edna (AUS)
bay
filly
1997
With the Fairies (GB)
Fairy King (USA)
Dane Empire (AUS)
bay
gelding
2001
Star of Light (AUS)
Star Watch (AUS)
Danefactor (AUS)
bay
colt
1997
Belle Chanson (AUS)
Biscay (AUS)
Danefair (GB)
bay
filly
1992
Roupala (USA)
Vaguely Noble (IRE)
Dane Fever (AUS)
bay
colt
2000
Campbell Fever (AUS)
Bluebird (USA)
Dane Flyer (IRE)
bay
colt
1998
Old Domesday Book (GB)
High Top (IRE)
Dane Friendly (GB)
bay
colt
1996
Always Friendly (GB)
High Line (GB)
Danegold (IRE)
bay
gelding
1992
Cistus (IRE)
Sun Prince (IRE)
Danegold (AUS)
bay
gelding
1995
Highpak (AUS)
Haulpak (AUS)
Dane Gu Li (NZ)
bay
filly
2000
Futile (AUS)
Alzao (USA)
Danehill Boy (JPN)
bay
colt
1997
Nicolina (FR)
In Fijar (USA)
Danehill Bronco (IRE)
bay
colt
2002
Ghost Tree (IRE)
Caerleon (USA)
Danehillcait (GB)
bay
filly
1995
Laura's Cottage (IRE)
Habitat (USA)
Danehill Country (AUS)
bay
colt
1999
Avenue Road (AUS)
Salieri (USA)
Danehill Dancer (IRE)
bay
colt
1993
Mira Adonde (USA)
Sharpen Up (GB)
Danehill Diva (AUS)
bay
filly
2000
Miss Minden (AUS)
Bellotto (USA)
Danehill Dreamer (USA)
bay
filly
2004
Sumoto (GB)
Mtoto (GB)
Danehill Express (AUS)
bay
colt
2001
Savana City (AUS)
New Regent (CAN)
Danehill Flame (IRE)
bay
filly
1995
Hillbrow (GB)
Swing Easy (USA)
Danehill Kikin (IRE)
bay
filly
2004
Miletrian (IRE)
Marju (IRE)
Danehill Lad (IRE)
bay
gelding
2000
River Missy (USA)
Riverman (USA)
Danehill Lass (AUS)
bay
filly
2001
Western Hour (USA)
Gone West (USA)
Danehillmark (IRE)
bay
filly
1998
Tendermark (IRE)
Prince Tenderfoot (USA)
Danehill Prince (GB)
bay
gelding
1994
Santarem (USA)
El Gran Senor (USA)
Danehill Princess (NZ)
bay
filly
2003
Latino L'Amour (IRE)
Diesis (GB)
Danehill Princess (AUS)
bay
filly
2003
Gypsy Princess (IRE)
Sadler's Wells (USA)
Danehill Princess (IRE)
bay
filly
1994
Top Glad (USA)
I'm Glad (ARG)
Danehill's Dream (IRE)
bay
filly
2003
Summerosa (USA)
Woodman (USA)
Danehill Star (AUS)
bay
colt
1997
Princess Tracy (IRE)
Ahonoora (GB)
Danehill Warrior (AUS)
bay
gelding
1999
La Favorita (USA)
Seattle Dancer (USA)
Danehurst (GB)
bay
filly
1998
Miswaki Belle (USA)
Miswaki (USA)
Danelagh (AUS)
bay
filly
1995
Palatious (AUS)
Semipalatinsk (USA)
Dane Legacy (AUS)
bay
gelding
2001
Altrista (NZ)
Sir Tristram (IRE)
Daneleta (IRE)
dark bay
filly
1999
Zavaleta (IRE)
Kahyasi (IRE)
Danelissima (IRE)
brown
filly
2001
Zavaleta (IRE)
Kahyasi (IRE)
Danelor (IRE)
bay
gelding
1998
Formulate (GB)
Reform (GB)
Danelord (AUS)
bay
gelding
2001
Dove Orchid (IRE)
Second Set (IRE)
Danelza (AUS)
bay
filly
1994
Coral Fan (IRE)
Be My Guest (USA)
Dane Magic (AUS)
bay
filly
1999
Judy March (USA)
Pleasant Colony (USA)
Daneman Hill (AUS)
bay
colt
2001
Crown Jewels (AUS)
Twig Moss (FR)
Danemarque (AUS)
bay
filly
1997
Circus Ring (IRE)
High Top (IRE)
Danemere (IRE)
bay
filly
1999
Kentmere (FR)
Galetto (FR)
Danemere (AUS)
bay
filly
1993
Signora (NZ)
Sir Tristram (IRE)
Dane Mountain (GB)
bay
colt
1995
Sephira (GB)
Luthier (FR)
Danendri (AUS)
bay
filly
1993
Stormy Exchange (USA)
Storm Bird (CAN)
Dane News (AUS)
bay
colt
1997
Palace News (NZ)
Sir Tristram (IRE)
Dane Orla (AUS)
bay
filly
1994
Time Princess (AUS)
Lunchtime (GB)
Daneprint (AUS)
bay
colt
2000
Great Vintage (NZ)
Sir Tristram (IRE)
Dane Promise (AUS)
bay
filly
2000
Best Promise (AUS)
Best Western (AUS)
Danequest (NZ)
bay
colt
2003
Fern (GB)
Shirley Heights (GB)
Danequillo (AUS)
bay
filly
1994
Paris Weekend (AUS)
Gielgud (USA)
Danera (AUS)
bay
filly
1994
Imposera (NZ)
Imposing (AUS)
Danerich (AUS)
bay
colt
2002
Millrich (AUS)
Rubiton (AUS)
Dane Ripper (AUS)
bay
filly
1993
Red Express (AUS)
Sovereign Red (NZ)
Dane River (IRE)
bay
colt
1995
Allegheny River (USA)
Lear Fan (USA)
Dane River (AUS)
bay
gelding
1997
Star of Light (AUS)
Star Watch (AUS)
Dane's Commitment (AUS)
bay
gelding
1999
Jolly (NZ)
Sir Tristram (IRE)
Dane's Glory (AUS)
bay
filly
1994
Market Gift (AUS)
Marscay (AUS)
Dane Shadow (AUS)
bay
colt
2001
Slight Chance (NZ)
Centaine (AUS)
Dane Shakira (AUS)
bay
filly
2000
Jeanetta Cochrane (IRE)
Sadler's Wells (USA)
Dane's Charm (AUS)
bay
colt
1997
Euphoria (AUS)
Marauding (NZ)
Danesis (IRE)
bay
colt
2004
Sister Dot (USA)
Secretariat (USA)
Daneskaya (GB)
bay
filly
1993
Boubskaia (GB)
Niniski (USA)
Dane's Lady (IRE)
bay
filly
1996
Lady Ellen (IRE)
Horage (IRE)
Dane's Lane (IRE)
grey
filly
1991
Kizzy (IRE)
Dancer's Image (USA)
Danesman (IRE)
bay
gelding
1993
Vernonhills (IRE)
Hard Fought (IRE)
Danesrath (IRE)
bay
filly
1992
Tribal Rite (IRE)
Be My Native (USA)
Dane's Reward (AUS)
bay
gelding
1995
Marks Gain (AUS)
Biscay (AUS)
Danessed (AUS)
bay
gelding
1997
I'm Blessed (AUS)
Luskin Star (AUS)
Danessee (AUS)
bay
gelding
1997
Tennessee Magic (AUS)
Bletchingly (AUS)
Danesta (NZ)
bay
filly
2000
Native Risen Star (USA)
Risen Star (USA)
Danestar (GB)
bay
filly
1995
Ministra (USA)
Deputy Minister (CAN)
Danestorm (AUS)
bay
gelding
1998
Shalbourne (USA)
Nureyev (USA)
Danestruck (AUS)
bay
filly
2000
Moonstruck (FR)
Shirley Heights (GB)
Danesty (AUS)
bay
filly
1999
Shalbourne (USA)
Nureyev (USA)
Dane Supreme (AUS)
bay
colt
1997
Prawn Cocktail (USA)
Artichoke (USA)
Dane Swift (IRE)
bay
filly
1998
Unspoiled (IRE)
Tina's Pet (GB)
Danetana (AUS)
bay
filly
1999
Gatana (AUS)
Marauding (NZ)
Danetime (IRE)
bay
colt
1994
Allegheny River (USA)
Lear Fan (USA)
Dane Time (AUS)
bay
filly
1996
Pasatiempo (AUS)
Last Tycoon (IRE)
Danetop (AUS)
bay
colt
1992
Sensation (NZ)
Noble Bijou (USA)
Danetree (AUS)
bay
colt
1997
Instinctive Move (USA)
Nijinsky (CAN)
Danetrice (AUS)
bay
colt
1993
Toltrice (AUS)
Matrice (AUS)
Dane Tristalight (NZ)
grey
filly
2002
Our Tristalight (NZ)
Sir Tristram (IRE)
Dane Tryst (AUS)
bay
filly
2000
Ain't Misbehavin' (AUS)
Canny Lad (AUS)
Danevade (AUS)
bay or brown
filly
2002
Subterfuge (GB)
Machiavellian (USA)
Danever (AUS)
bay
gelding
2003
Riveryev (USA)
Irish River (FR)
Danewell (AUS)
grey
filly
2001
St. Bridget's Well (NZ)
Three Legs (GB)
Danewells Lass (AUS)
bay
filly
2003
Sontweni (IRE)
Sadler's Wells (USA)
Danewhisper (AUS)
bay
filly
2000
Golden (USA)
Mr Prospector (USA)
Danewick (AUS)
bay
gelding
1996
Wycombe (NZ)
Imposing (AUS)
Danewin (AUS)
bay
colt
1991
Cotehele House (GB)
My Swanee (GB)
Daney Boy (AUS)
bay
gelding
1992
Eloquent Edition (NZ)
Sovereign Edition (IRE)
Danezza (AUS)
bay
filly
1993
La Baneza (IRE)
Balidar (IRE)
Danfive (AUS)
bay
colt
2002
Eyes of Belief (FR)
Sadler's Wells (USA)
Danger Money (IRE)
bay
gelding
1996
Troyanna (GB)
Troy (GB)
Dangerous (AUS)
bay
colt
1996
Antwerp (NZ)
Sir Tristram (IRE)
Danger Point (AUS)
bay or brown
filly
2002
Secret Truth (CAN)
Secretariat (USA)
Dan Grey (IRE)
grey
filly
2000
Myrtle Beach (IRE)
Kenmare (FR)
Daniela (AUS)
bay
filly
2002
Crazy Fling (USA)
Alysheba (USA)
Daniel Deronda (GB)
bay
gelding
1994
Kilvarnet (IRE)
Furry Glen (IRE)
Danielli (IRE)
bay
filly
2002
Ingabelle (IRE)
Taufan (USA)
Danigma (AUS)
bay
colt
1997
River Mystery (USA)
Riverman (USA)
Daninkling (AUS)
bay
filly
1995
Incline (AUS)
Century (AUS)
Danira (IRE)
bay
filly
1994
Sephira (GB)
Luthier (FR)
Danish (IRE)
bay
filly
1991
Tea House (IRE)
Sassafras (FR)
Danish (AUS)
bay
filly
1992
Endearing (IRE)
Runnett (GB)
Danish Ayr (GB)
bay
filly
1994
Cumbrian Melody (GB)
Petong (GB)
Danish Circus (IRE)
bay
colt
1993
Circus Maid (IRE)
High Top (IRE)
Danish Counsel (NZ)
bay
gelding
2002
Court (NZ)
Prince Echo (IRE)
Danish Culture (AUS)
bay
filly
2000
Cult Figure (NZ)
Ahonoora (GB)
Danish Doll (AUS)
bay
filly
1994
Star Lead (NZ)
Star Way (GB)
Danish Field (IRE)
grey
gelding
1991
Pizziri (IRE)
Artaius (USA)
Danish Gem (GB)
bay
filly
1999
Gemaasheh (IRE)
Habitat (USA)
Danish Habit (AUS)
bay
filly
1994
Certain Habit (NZ)
Ashabit (GB)
Danish Harmony (AUS)
bay