Sarah's Racing Insights -
French raid planned by Ballydoyle
The top class racing continues this weekend, and we're going continental as Ballydoyle sends a team of raiders over to Longchamp.
I'm quite the fan of the French course. I'm very happy it's open again for racing, and I hope we'll see some big winners here.
Rostropovich is favourite to take the Fontainebleau Stakes, and with the Frankel running through him, he should have the speed to take the victory. A solid performer as a two-year-old, I believe we'll see more from him as the season progresses.
The next race on my radar is the La Grotte stakes where we'll see Magical take to the track.
Magical is one of my fillies to watch this season, and with some strong performances last season, I think she has the capability here. She'll likely go to post priced 4/1, so there is good value on offer is you choose to back her.
Sarah Expects a solid comeback for Magical

Flag of Honour is next on the list, and the three-year-old will be looking to build on his victory at Leopardstown late last season. He comes from good stock in the form of Galileo, and he should have the capability to handle himself here.
Ballydoyle goes for home soil guineas glory
After having a week of not writing about racing, I'm glad to be getting back in the saddle if you'll pardon the pun.
The opener on the card is maiden with Conclusion the runner of choice for here for Ballydoyle. He well back here in October, so I expect another step up the progress ladder when he runs here.
Looking at the Guineas Trial, it's a case of which O'Brien horse will past the post first. I've got a soft spot for US Navy Flag following his strong runs last season, and he should be the one to beat here having a victory over Mendellsohn last season.
Gustav Klimt is the horse that gets the nod from the stable with Ryan Moore in the saddle. Progressing well as a two-year-old with two wins in the middle of last season, if he can run like that here, he'll put himself in strong contention.
With only four horses in this race, I have to mention Kenya, especially with two wins from three outings last season. He's only a three-year-old, so there's still lots of room for progression, and I think a run in better company will do him a service here.
It's time for the fillies in the
2:45
, the bookmakers have
I Can Fly
as 5/2 favourite for this race, and if she has the same prowess as her former stable companions this race will be a sinch.
There are two more Ballydoyle runners in this 1,000 Guineas trial, and I quite fancy Butterscotch to put in a decent run here, and at 10/1 she's a very good each-way shout. She may prefer better ground having won at Naas in the summer, so we'll have to see how she copes here.
In the Ballysax Stakes, it's a case of big the O'Brien horse you like the most. Nelson, The Pentagon, and Delano Roosevelt all have strong chances to land the race, but my vote goes to Nelson.
Sarah Expects Nelson to go well today
He should have speed to burn if he anything like Frankel, and my only concern would be if he can handle the heavy ground.
Meydan Special
30th March 2018
I'm sure it was almost April last time I looked out of the window, and instead of sitting in a wet and windy Berkshire, I'd much rather be sunning myself next to the track in Meydan.
Fear not race fans, my eyes will be glued to the TV come
Saturday
, and I'll be cheering on all our Ballydoyle hopefuls.
The first horse on my radar is Mendelssohn, and if you're an avid reader of my articles, you'll know I've scouted him as one to watch this year.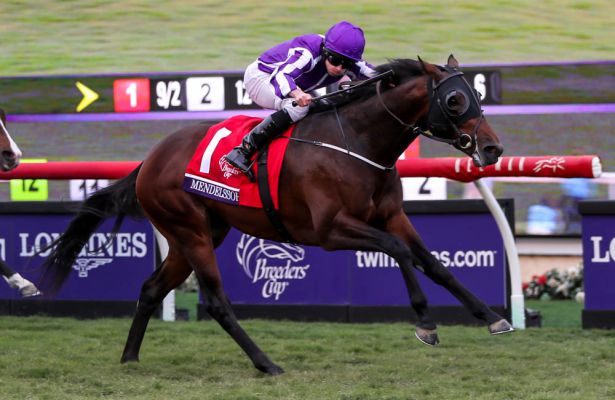 A victory at Dundalk last time out will set him up perfectly for this race, and he seemed in fine fettle when he was worked earlier this week, so I expect a strong run here - dare I predict a race win?
Washington DC runs in the next at Meydan, and it's just an honourable mention for him here. I don't dislike him by any means, and I hope he proves me wrong by romping home to victory. But I think there's better value out there this weekend.
Lancaster Bomber is my each-way chance of the meeting, a personal favourite of mine, he hasn't seemed to find that elusive victory just yet, and I've got my fingers and toes crossed that this could finally be his time. He's a 9/1 shot here, so if you're like me, then get to the bookies and put a few quid on the not so old boy.
Idaho has two Group 2 wins to his name, and can easily find another here. He ran well in Japan last time out, so if he can refind his Ascot form, he offers solid each-way value here.
-------------------------------------------------------------------------------------------------------------------------------------------
Big guns go for it in 2018
Written by Sarah Shannon Tuesday 3rd March 2018 - Layout & Design Paul Rhodes.
The weather outside might be brisk, but when I last checked my calendar I was sure it was March, which means it's less than a month until the flat season begins!
2017 was quite a year for Aidan and his team. Ballydoyle picked up more Group One wins than you could shake a stick at, and as we look towards 2018, it promises to be just as fruitful.
Personally, I'm a big fan of the fillies from Ballydoyle, and it's the four-year-olds that have caught my eye this year.
I knew Rhododendron was a promising filly, and when she started last season at Newmarket, I thought she would have opened her account there and then. Little did we know the force she would have to battle in Winter.
Rhododendron (Left) Already a multiple G1 wunner
Following a few dips in form, she got herself back on track ready for Chantilly, winning the Prix de L'Opera as a 7/1 shot. I did believe we'd see her win at Del Mar in her last race of 2017, sadly, it was not to be.
Fingers crossed she'll be back for another crack at that race this season, and hopefully, we'll see another strong start to the year in 2018.
If you look at the list of three-year-olds in training at Ballydoyle, Clemmie standouts a mile in terms of class and calibre. Already installed as the favourite to take the 1,000 Guineas at Newmarket, I'm not sure I'm in a position to argue with the bookies.
Clemmie looked exceptional at 2
She loves the course at Newmarket having picked up two wins their last season, if that form is anything to go by, I'd be placing my classic bets now. I expect to see her at all the big meetings this season, and if she doesn't pick up a win at Royal Ascot, I'll eat my hat.
Sorry to use a pun, but I'd Happily put my neck on the line and say we'll get some strong performances from this filly in 2018. Happily loved running in Ireland and France, so I believe we'll see her venture across the Irish Sea early this season so that she can make an impact on the UK race tracks.
Happily could be a leading Oaks Contender
September was my horse of Royal Ascot after impressively taking the Chesham Stakes. You might not agree since her form fell off in the closing months of 2017, but I expect to see her back stronger than ever this season, so be prepared for lots of information about this horse throughout the next few months.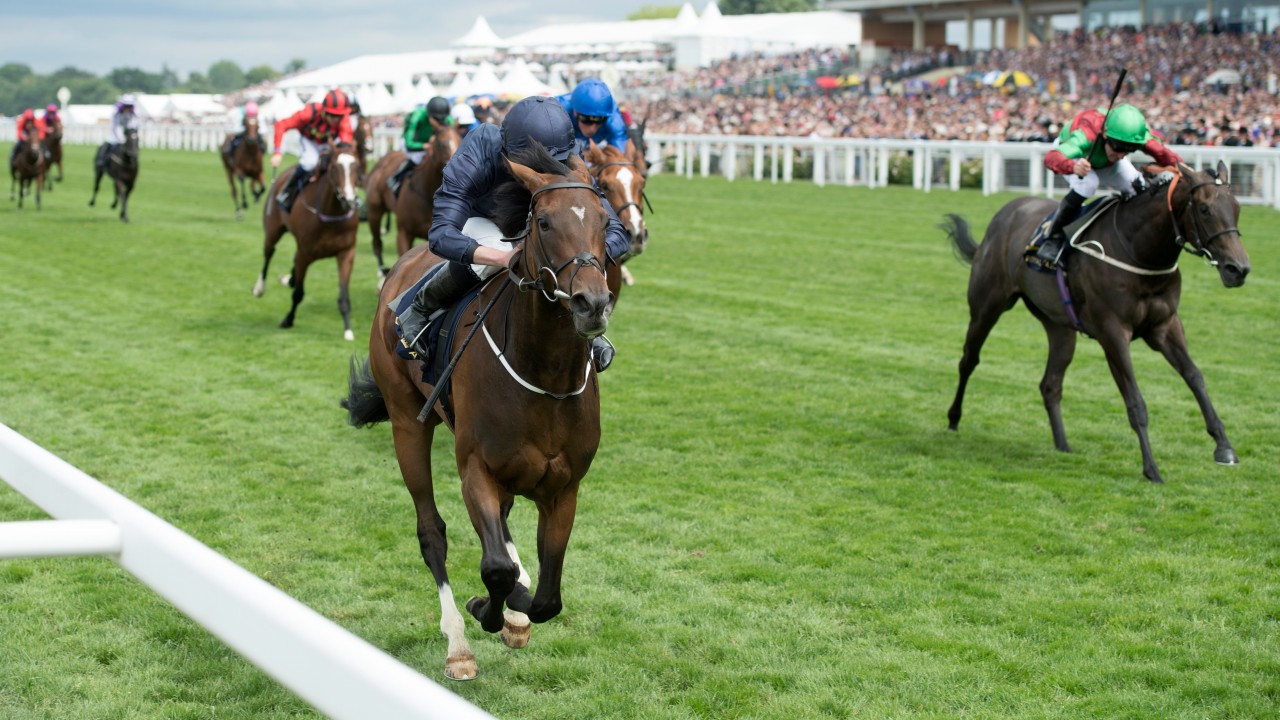 September looked a smart juvenile

It's another Galileo filly that I believe is one to watch and this time it's Bye Bye Baby. We may not have seen her most robust runs until the closing months of the season, two wins at Navan and Newmarket, and it looks as though she likes the softer ground, so she should be one to keep your eye on in the early stages of the season.
Bye Bye Baby could be a leading Classic Contender in 2018
Now it's time to move on to the boys, and I can only start at one place, and that is Order of St George. There was nothing this horse couldn't do last year, and I thought he would honestly have the Ascot Gold Cup in the bag. Finishing the season with a win in the Long Distance Cup, I expect to see him go close to two miles again this season with Gold Cup the goal once again.
Although there are some cracking four-year-olds in training, my heart belongs to the three-year-olds, and US Navy Flag in particular. Coming into his own in the closing months of the season, he couldn't stop winning, and I hope we'll see the same performances from him this time around.
After seeing his run at Del Mar, and also backing him to take the victory, I expect to see big things from Mendelssohn this season. We may get a sneak peek of him at Kempton on the all-weather, but I suspect Newmarket at the 2,000 Guineas will be his first port of call in 2018.
Mendelssohn powering home at the Breeders Cup In 2017
Let's hope these big guns can make as significant an impact as Caravaggio and Winter did last season, if they do, we could see another 28 Group One wins heading to Ballydoyle.
Winter lit up the 2017 season