For those who want to watch the Hunting Horn race at 1.15pm GMT 2.15 CET you can watch it here as unfortunately there is no British coverage > http://www.qrec.gov.qa/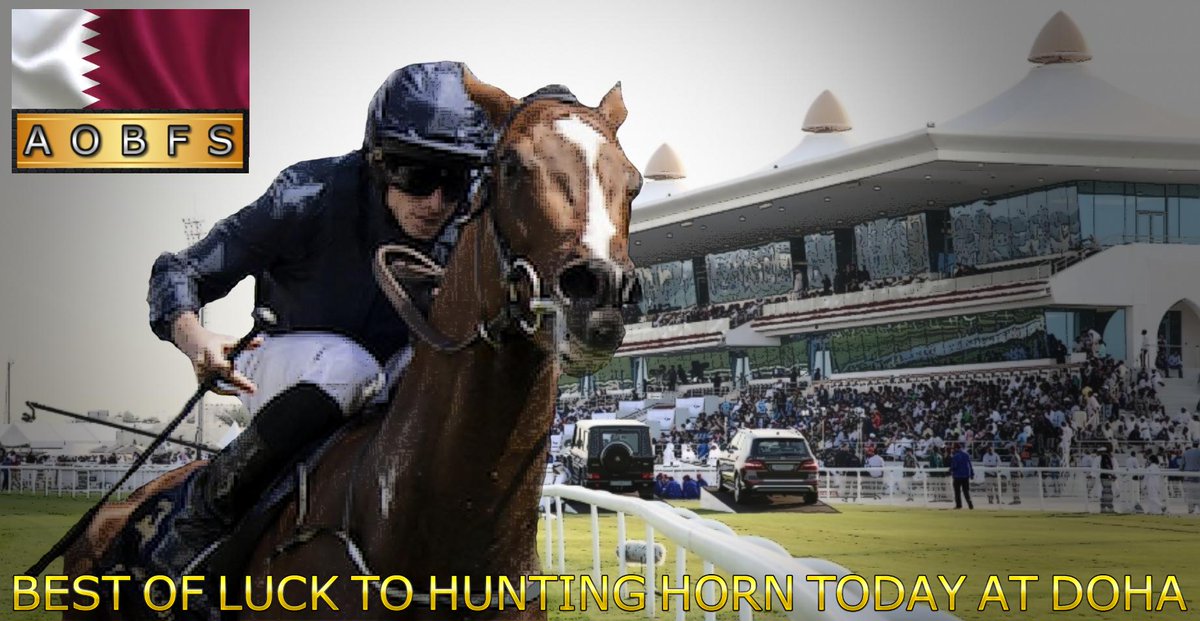 2019 WINS 000 2019 G1 WINS 00 LAST G1 WINNER MAGNA GRECIA VERTEM FURTRITY STAKES







Former Ballydoyle resident The Taj Mahal finished 8th in the Carlton Draught Peter Young Stakes Group 2 at Caulfield He was up with the pace but fell back late on but only finished about 4 lengths behind the winner - Former Ballydoyle Resident Red Cardinal (Montjeu) Wins the Parramatta Cup at Rosehill in Australia

Pricey's Preview of the Ballydoyle runner at Doha today > http://www.aidanobrienfansite.com/priceys-previews.php

Donnacha says he is hopeful he can do 9 stone this season and says its not easy but is very hopeful of having a full campaign in the saddle that is the plan anyway. When asked about Ten Sovereign he said He looks great; he has gotten strong over the winter and I think he will be extremely effective at sprint distances.
Pictures of Hunting Horn This morning at Doha > http://www.aidanobrienfansite.com/latest-news.php
Coolmore Posters Page Updated - Added New Australia & So You Think Posters > http://www.aidanobrienfansite.com/coolmore-posters.php

As we posted a few days ago Hunting Horn has now been taken out of the Winter Derby and goes to Qatar on Saturday Hunting Horn has been drawn 6 in the 1m4f H.H The Amir Trophy Local Group 1 at Doha at 1.15pm GMT Ryan Moore booked to ride there are 14 runners one of which is Former Ballydoyle resident Giuseppe Garibaldi.
Ballydoyle French Classic Entries 2019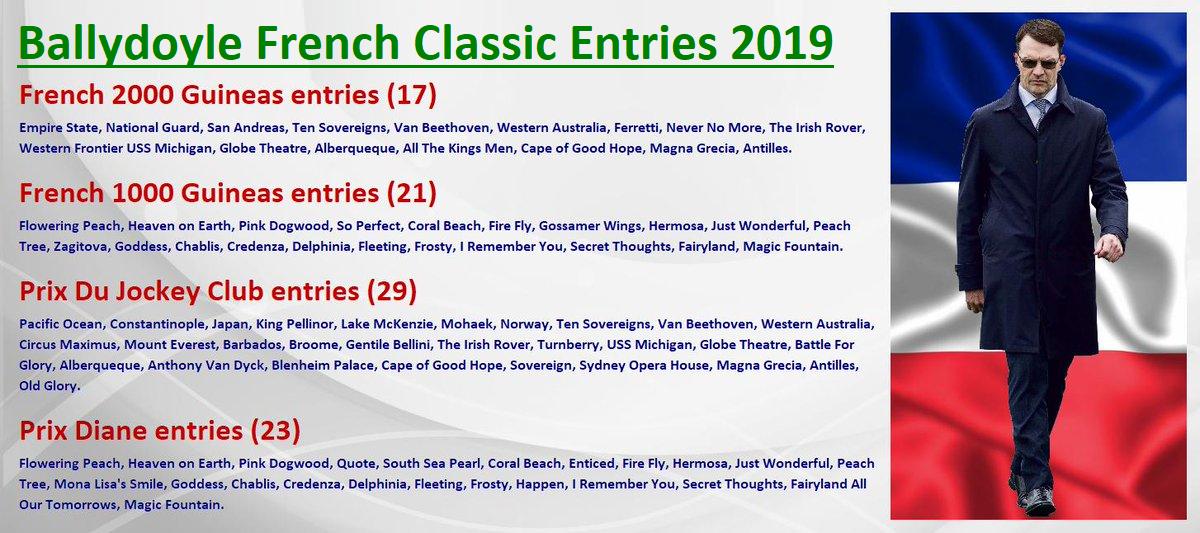 Australia The Heir Apparent News - Elisheba becomes Australia's 19th individual winner. The filly won well at Wolverhampton for John Gosden Replay & stud stats updated here > http://www.aidanobrienfansite.com/the-heir-apparent.php

We have had some fantastic feedback about The Greatness Of Galileo 2019 book thanks to everyone who took the time to leave feedback check out the feedback here > http://www.aidanobrienfansite.com/the-greatness-of-galileo-…
We are Delighted to announce the release of the Joseph O'Brien Cheltenham Festival 2019 Contenders brochure Anne Alston spotlights Joseph's 10 leading festival contenders with some of David Bett's beautiful photographs included a huge thanks to David. it's free for everyone to download here > http://www.mediafire.com/…/Joseph+O%27Brien+Cheltenham+Fest…
Rostropovich move down under made permanent > http://www.aidanobrienfansite.com/latest-news.php

So Much To Look Forward to in 2019 Mouthwatering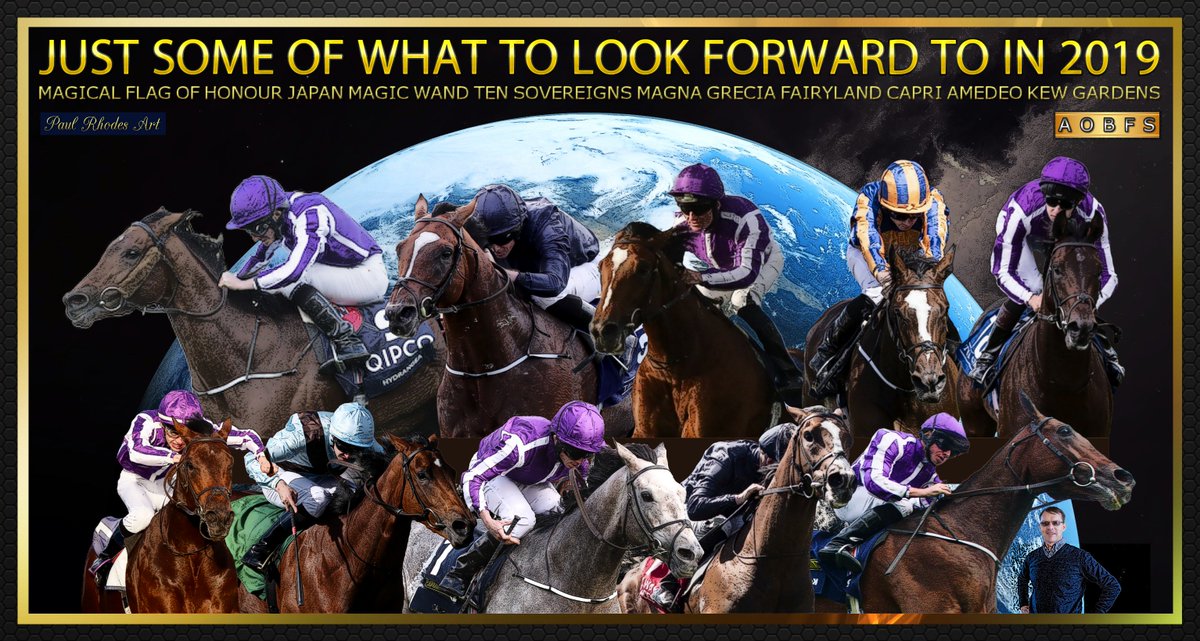 New Website Page - A to Z Of Galileo's Group Winners - Platinum Warrior Upgraded from Group 3 Winner to Group 2 Winner > http://www.aidanobrienfansite.com/galileos-a-to-z-of-group-…

Ballydoyle Classic Dark Horses 2019 - I pick 2 completely dark horses for each of the classics including the English 1000 & 2000 Guineas Oaks Derby St Leger & U S Triple Crown Races - This is a completely free PDF Download > http://www.mediafire.com/…/Ballydoyle+Classic+Dark+Horses.p…

Sports News Ireland The Greatness of Galileo article By Breandán Ó hUallacháin > https://www.sportsnewsireland.com/…/the-greatness-of-galil…/
Video Page Updated - Added Go behind the scenes at Coolmore Stud video > http://www.aidanobrienfansite.com/video.php

Aidan O'Brien Horses in training 2019 updated - now removed Rostropovich & Idaho is Back > http://www.aidanobrienfansite.com/horses-in-training-2019.p…





DATE / TIME
HORSE
RACE DETAILS
S

TARTING

P

RICE

15:15 23/02/19
Hunting Horn
Lingfield

, 1m 2f 0y

, C1





Aidan P O'Brien 1993 - 2018
(Career Records) (G1) 313 (G2) 131 (G3) 262 (T) 706

2018 Wins (000) Group One (00) Group 2 (00) Group 3 (00)
Date -- Horse -- Race -- Grade