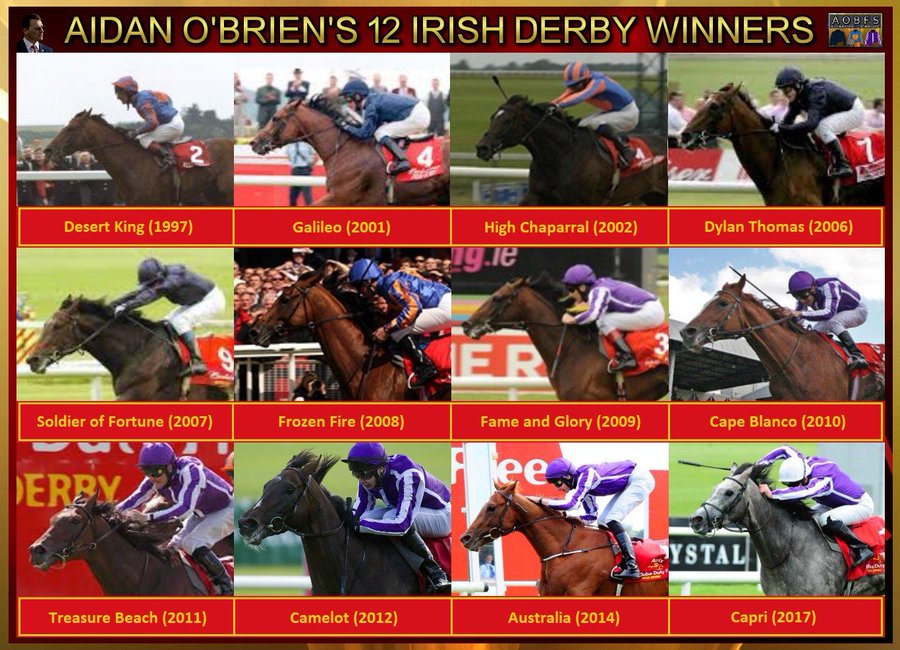 2019 WINS 059 2019 G1 WINS 06 LAST G1 WINNER Circus Maxamus St James Palace Stakes







Pricey's Previews of the Ballydoyle runners today at the Curragh tonight > http://www.aidanobrienfansite.com/priceys-previews.php

Simply Beautiful just gets up to break her maiden tag at Naas - Full report & pictures here > http://www.aidanobrienfansite.com/latest-news.php
Jockey Wins & APOB Race Winners 2019 Page Updated > http://www.aidanobrienfansite.com/jockey-and-race-wins-2019…

Fleeting has been Invited to run in the Belmont Oaks and Cape Of Good Hope the Belmont Derby

Chablis 3rd Goddess 4th Flowering Peach 5th in the 8.00 Irish Stallion Farms EBF Naas Oaks Trial (listed) at Naas


Holy Roman Empress & Darkest were both unplaced in the 6.00 Irish Stallion Farms EBF Fillies Maiden at Naas


Holy Roman Empress By American Pharoah at Naas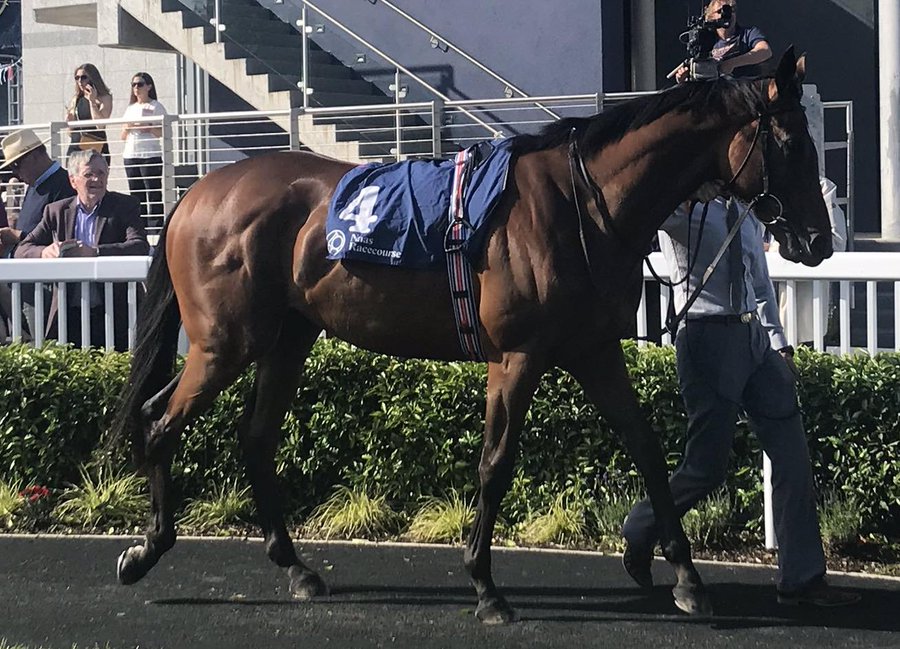 Some Major Ballydoyle Festival Entries Update
Juddmonte International - Flag Of Honour, Hunting Horn, Magical, Anthony Van Dyck, Broome,
Circus Maximus, Japan, Magna Grecia, Mohawk, Mount Everest, Hermosa, Pink Dogwood.
Yorkshire Oaks - Magic Wand, Delphinia, Fleeting, Happen, Heaven On Earth, Hermosa,
Pink Dogwood, South Sea Pearl.
Nunthorpe Stakes - Sergei Prokofiev, Ten Sovereigns, Fairyland, Gossamer Wings, So Perfect.
Goodwood Cup - Cyprus Creek, Flag Of Honour, Hunting Horn, Southern France, Barbados,
Constantinople, Harpo Marx, Norway, South Pacific.
Pink Dogwood faces 6 in Curragh Feature > http://www.aidanobrienfansite.com/latest-news.php

David's Photos of the Ballydoyle horses at Leopardstown on Thursday 20th June including Arthur's Kingdom Toronto & Tracing > http://www.aidanobrienfansite.com/david-betts-photography-2…
Ballydoyle Runners Curragh Thursday
5.45 Fillies Maiden - Love (Don) Ennistymon (Heff) Meeting (Wayne)
6.15 EBF Maiden - Armory (Don) Hong Kong (Heff) New World Tapestry (Wayne)
8.45 EBF Maiden - Macquarie (Don)
Ballydoyle Entries at the Curragh on Friday
3.15 EBF Maiden - Masteroffoxhounds, Ohio State, Royal County Down, Royal Dornoch
3.45 Curragh Cup G2 - Barbados, Capri, Cypress Creek, Flowering Peach, Harpo Marx, Heaven On Earth, Kangaroo Valley, South Pacific, Southern France, Western Australia
4.15 Airlie Stud Stakes G2 - Blissful, Love Bracelet, Precious Moments, Tango
4.50 Fillies Handicap - I Remember You
5.25 Pretty Poly Stakes G1 - Happen, Magic Wand, Pink Dogwood
Ballydoyle Entries Curragh Saturday
1.45 Duty Free Handicap - All The King's Men
2.20 Dash Stakes - Gossamer Wings, Fantasy,
2.50 Celebration Stakes - Goddess, National Guard, Old Glory, Pacific Ocean
3.30 International Stakes G3 - Blenheim Palace, Old Glory
4.05 Village Handicap - Turnberry Isle
4.40 Railway Stakes G2 - Arizona, Fort Myers, King Neptune, Monarch Of Egypt,
Mount Fuji, Royal Lytham
5.20 Irish Derby G1 - Anthony Van Duck, Broome, II Paradiso, Norway, Sovereign, Western Australia
Our 10th Rankings/Ratings supplement of the season is here - Timeform Global Rankings European Division Ballydoyle Spotlight & News - A total of 14 Ballydoyle Residents in the rankings this week.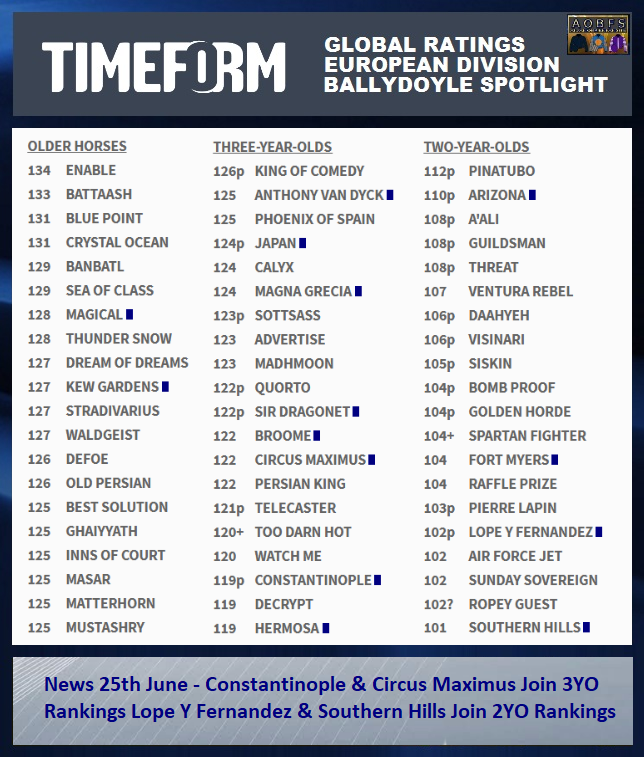 Monarch of Egypt to take on Siskin in exciting Railway clash at the Curragh > http://www.aidanobrienfansite.com/latest-news.php

Anthony Van Dyck to be Partnered by Moore in Double Derby Bid > http://www.aidanobrienfansite.com/latest-news.php

South Pacific could be sent on Curragh Cup Mission > http://www.aidanobrienfansite.com/latest-news.php
2 New Website pages to check out
A.P.O'Brien British Group 1 Victories By Race > http://www.aidanobrienfansite.com/aidan-obrien-british-g1-w…

A.P.O'Brien Royal Ascot Stats Page
>
http://www.aidanobrienfansite.com/aidan-obrien-royal-ascot-…

Pink Dogwood Headlines Ballydoyle 7 in Pretty Polly Stakes > http://www.aidanobrienfansite.com/latest-news.php
British Flat Trainers Championship Updated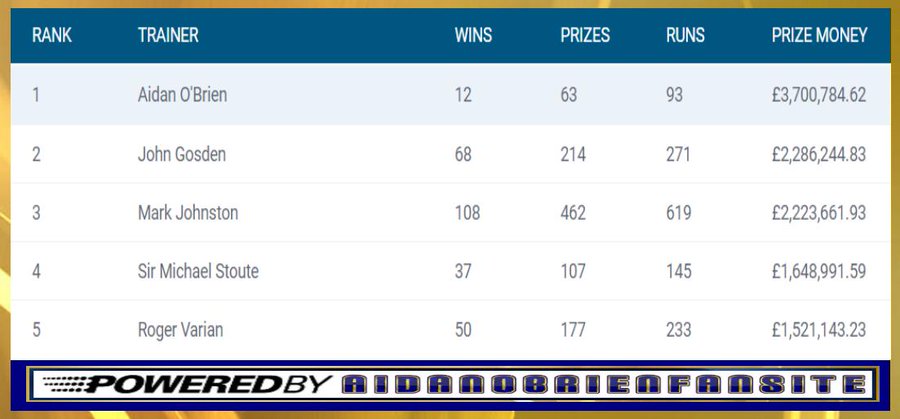 Leading Sires GB & IRE Tables Updated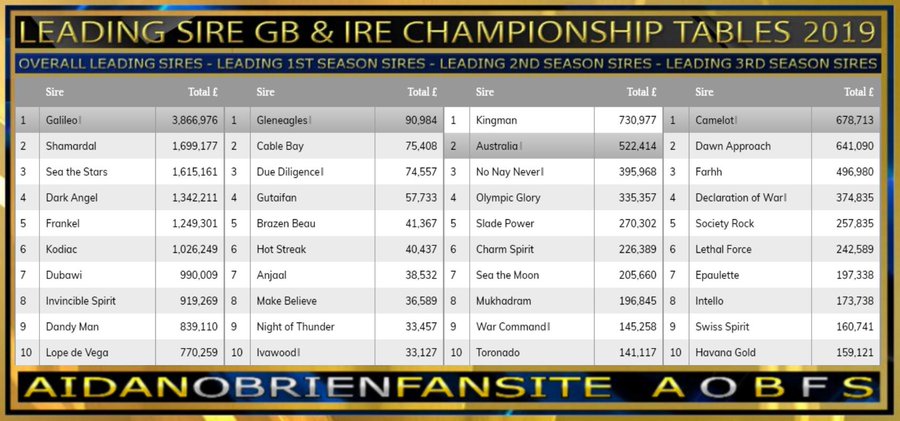 The History of Ballydoyle Page Updated & Added Royal Ascot Group 1 Race History > http://www.aidanobrienfansite.com/ballydoyle-history.php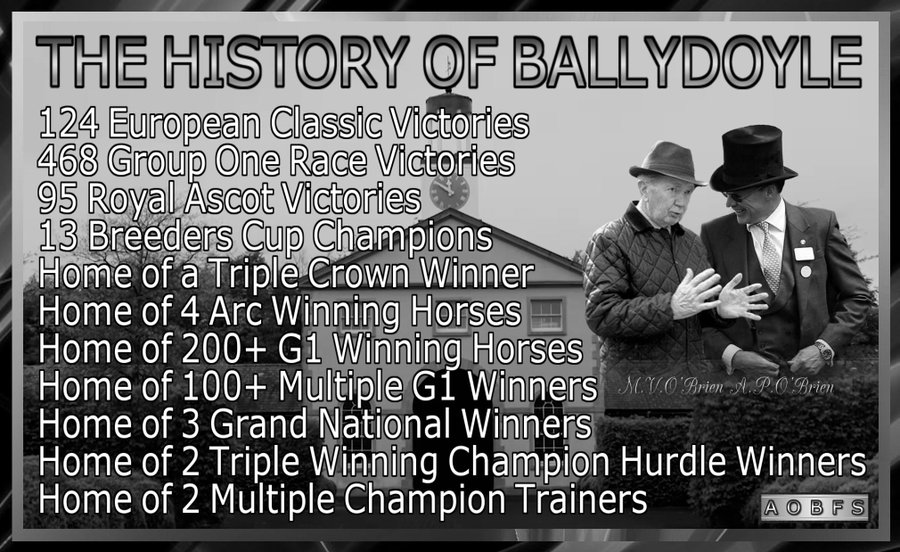 Galileo's Career Page Updated > http://www.aidanobrienfansite.com/galileos-career.php


Galileo Empire Page Updated > http://www.aidanobrienfansite.com/galileo-empire.php


A to Z Of Galileo's Group Winners > http://www.aidanobrienfansite.com/galileos-a-to-z-of-group-…


A.P.O'Brien Stats Posters Page Updated > http://www.aidanobrienfansite.com/stats-posters.php


Aidan O'Brien's Group One Winners Gallery > http://www.aidanobrienfansite.com/aidan-obrien-group-one-wi…

Ballydoyle 2YO Page 2019 - Updated 21st June - 3 New Fillies Added > http://www.aidanobrienfansite.com/ballydoyle-2yo-2019.php






DATE
POS
HORSE
TYPE
RACE DETAILS
S

TARTING

P

RICE

26/06/19
6/10
Quote
FLAT
Naas

, 1m

, Good to Yielding

7/1
26/06/19
1/10
Simply Beautiful
FLAT
Naas

, 1m

, Good to Yielding

9/10
26/06/19
3/9
Chablis
FLAT
Naas

, 1m 2f

, Good to Yielding

, C1

9/2
26/06/19
5/9
Flowering Peach
FLAT
Naas

, 1m 2f

, Good to Yielding

, C1

14/1
26/06/19
4/9
Goddess
FLAT
Naas

, 1m 2f

, Good to Yielding

, C1

25/1
26/06/19
14/17
Darkest
FLAT
Naas

, 6f

, Good to Yielding

12/1
26/06/19
12/17
Holy Roman Empress
FLAT
Naas

, 6f

, Good to Yielding

7/1


Aidan P O'Brien 1993 - 2019

(Career Records) (G1) 319 (G2) 134 (G3) 270 (T) 723

2019 Wins (59) Group One (06) Group 2 (03) Group 3 (09)
06/04 -- Broome -- Ballysax Stakes -- G3
13/04 -- Magical -- Alleged Stakes -- G3
04/05 -- Magna Grecia -- 2000 Guineas -- G1
05/05 -- Hermosa -- 1000 Guineas -- G1
06/05 - Happen - Athasi Stakes - G3
06/05 -- Magical -- Mooresbridge Stakes -- G2
08/05 -- Sir Dragonet -- Chester Vase -- G3
12/05 -- Broome -- Derrinstown Derby Trial -- G3
19/05 -- Etoile -- Fillies Sprint Stakes -- G3
19/05 -- So Perfect -- Lacken Stakes -- G3

24/05 -- Constantinople -- Gallinule Stakes -- G3
26/05 -- Magical -- Tattersalls Gold Cup -- G1

26/05 -- Hermosa -- Irish 1000 Guineas -- G1

01/06 -- Anthony Van Dyck -- Epsom Derby -- G1
18/06 -- Arizona -- Coventry Stakes -- G2
18/06 -- Circus Maximus - St James Palace Stakes -- G1
21/06 -- Japan -- King Edward VII Stakes -- G2